How Some DC Fans Are Responding To The Negative Suicide Squad Reviews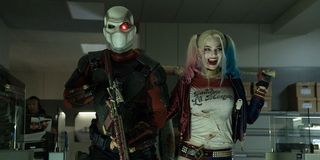 With the Internet and social media at our fingertips, it's easier than ever to voice our opinions about movies and television, but it's no longer the creative projects themselves that are subject to criticism. It's no secret that the DC Extended Universe hasn't been a critical darling, but as seen earlier this year with Batman v Superman: Dawn of Justice, there are instances of folks lashing out against critics who've given bad reviews of DC-related material. Right on the heels of Suicide Squad getting a lot of negative reviews, some diehard DC Comics fans are now looking past individual reviews and looking to take down review aggregator website Rotten Tomatoes.
Yes, Change.org, the same website that fans have used to try to bring back TV shows and get directors thrown off a movie, is now being used as a way to shut down Rotten Tomatoes because "its critics" have given the DCEU releases negative reviews, thus affecting people's opinion even if they're "great movies." At the time of this writing, the petition has gathered over 1,700 supporters, and it needs to reach 2,000 for its next goal.
All right, besides the chances of this petition succeeding being zero, let's see if we can straighten something out with this situation. Rotten Tomatoes isn't the one responsible for these bad DC movie reviews. They may have a screening process for which reviewers are counted on the website, but that's it. Even if the site shut down, those same critics would still be providing the same thoughts and review of the movie. To put it lightly, it's drastic to get an entire website be shut down simply because critics (not all of them, to be clear) disliked Suicide Squad. A movie, which I might add, hasn't even been released to the public yet, so the petitioners haven't even gotten to see it for themselves outside of trailers and clips.
Currently Suicide Squad boasts a 35% among critics on Rotten Tomatoes, but this is just from the first round of reviews. More will be coming in as the week continues, and since the movie isn't even available to the masses yet, the audience percentage could end up being much higher. Still, these initial reactions don't bode well for Warner Bros. After Batman v Superman: Dawn of Justice didn't perform quite as well as the studio expected, many were hoping that Suicide would get this cinematic universe back on track for the rest of 2016. Now it looks like it has a more precarious road ahead, though with Wonder Woman and Justice League coming next year, the DCEU is far from finished.
For those who didn't get to go to any of the early screenings, Suicide Squad will be released in theaters this Friday, and then you'll be able to form your opinion of the movie.
Connoisseur of Marvel, DC, Star Wars, John Wick, MonsterVerse and Doctor Who lore. He's aware he looks like Harry Potter and Clark Kent.
Your Daily Blend of Entertainment News
Thank you for signing up to CinemaBlend. You will receive a verification email shortly.
There was a problem. Please refresh the page and try again.