DC Just Made A Quiet Move Behind The Scenes That Has Us Very Excited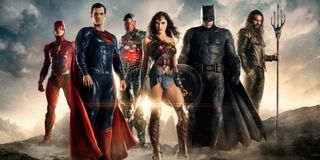 It doesn't matter how well you start a race as long as you eventually manage to find your stride. There's no question that DC has had a much rockier start than Marvel when it comes to forming a cohesive cinematic universe, but the company seems to have definitely recognized that issue. Following the recent Batman V Superman: Dawn of Justice debacle, rumors of a major behind the scenes shakeup started to surface. Now it seems that those rumors were true, and we couldn't be more excited about what that means for the future of the DCEU.
According to a new report from Bleeding Cool, Geoff Johns has officially been promoted to President of DC Entertainment. The report seems to indicate that DC and Warner Bros. actually made this decision a few months ago after the lackluster performance of Dawn of Justice, but they kept a lid on it until after Comic-Con. He's not the sole owner of this title, as he shares the mantle of President with DC Entertainment's current President, Diane Nelson. Regardless, this moment shows a definitive shift for DC, as a whole.
We cannot even begin to express how excited this development makes us. Geoff Johns has a well-known background in the world of comics, and as such he understands what it takes to properly adapt these universes to the silver screen. There's no need to bring him up to speed; one could use terms such as "one-shot," "Elseworld," and "Zero Issue" and he will have a complete idea as to what you mean. Beyond that, he specifically has a strong background with DC Comics' characters, and his runs with characters like Green Lantern and even The Dark Knight himself have become beloved by readers.
Geoff Johns has additionally proven himself capable of delivering on the promise of rock solid live-action entertainment. Although he has moved up to take on a more prominent role in DC's film division, he also was one of the principle players who brought Arrow and The Flash to the small screen in 2012 and 2014, respectively. He even personally wrote the episodes that introduced fan-favorite characters like The Huntress, Captain Cold, and Heat Wave.
Aside from Geoff Johns' obvious qualifications for this job, we're excited because of what it means for DC as a whole. This decision shows that Detective Comics understands what has worked so well over at Marvel for the last decade, and that they will attempt to emulate it. Trailers for movies like Justice League and Wonder Woman show that DC still intends to remains a far more filmmaker driven universe than the Marvel Cinematic Universe, but having a self-proclaimed geek like Geoff Johns at the helm (the DC analogue for Marvel's Kevin Feige) will help to ensure a more faithful and cohesive universe.
Congratulations, Mr. Johns. If anyone has the vision to make the DCEU the great cinematic universe that we know it can be, that person is you. We will have to wait and see where the DCEU goes next when Suicide Squad hits theaters on August 5.
Wanna get excited about DC's future? Catch that amazing Justice League Comic-Con trailer on the next page.
Originally from Connecticut, Conner grew up in San Diego and graduated from Chapman University in 2014. He now lives in Los Angeles working in and around the entertainment industry and can mostly be found binging horror movies and chugging coffee.
Your Daily Blend of Entertainment News
Thank you for signing up to CinemaBlend. You will receive a verification email shortly.
There was a problem. Please refresh the page and try again.