Why Star Trek Will Never Be Completely At Home As A Movie Franchise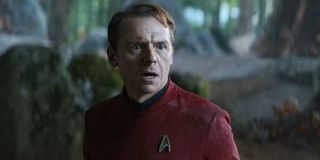 Gene Roddenberry's Star Trek universe has much humbler beginnings than the recent continuity of films would lead you to believe. Although the cinematic franchise has pumped our numerous blockbusters, the series began as a simple, high-concept sci-fi TV show all the way back in 1966. In the eyes of Star Trek Beyond screenwriter Simon Pegg, that's where it truly belongs. Pegg recently opened up in an interview and explained that he believes that the silver screen is not a perfect home for a franchise such as Star Trek. He elaborated:
Simon Pegg explained this particular stance during a recent appearance on Engage: The Official Star Trek Podcast to promote Star Trek Beyond. In his statement, he described how the series always felt designed for the world of television, and the movies have existed more to provide bits of fan service than to replace television as Star Trek's primary medium. He's not disparaging the Star Trek films with his comment, and we feel somewhat inclined to agree with his assertion, as Star Trek represents the type of series that requires a viewer to get to know its characters on a more long-term basis.
The most recent series of Star Trek films have leaned heavily on the idea of fan service as a means of getting fans excited. Sometimes that works -- such as Karl Urban's Bones uttering of the phrase "Dammit Jim, I'm a doctor not a..." -- but sometimes it really, REALLY does not work, such as Star Trek Into Darkness' not-so-secret adaptation of Wrath of Khan. Regardless, all of these references harken back to a bygone era of televised Star Trek adventures.
The underlying theme of this quote seems to be the simple fact that Simon Pegg couldn't be happier that a new Star Trek series will finally air on television, returning the series to its rightful place. Titled Star Trek: Discovery, the new series of adventures will premiere next winter and introduce an entirely different starship crew to a new generation of television viewers, and it will rely less on the nostalgia of Kirk and Spock as a primary appeal.
At the end of the day Simon Pegg seems to really know what he's talking about. Star Trek originated in the world of television, and while we will always love the movies, it just feels appropriate that the Star Trek universe will soon return to the small screen for the first time in over a decade. Make sure to check out Star Trek Beyond, which is in theaters now, and stay tuned for more details related to Star Trek: Discovery, which premieres in January 2017.
Originally from Connecticut, Conner grew up in San Diego and graduated from Chapman University in 2014. He now lives in Los Angeles working in and around the entertainment industry and can mostly be found binging horror movies and chugging coffee.
Your Daily Blend of Entertainment News
Thank you for signing up to CinemaBlend. You will receive a verification email shortly.
There was a problem. Please refresh the page and try again.