Why Simon Pegg Will Never, Ever Direct A Star Trek Movie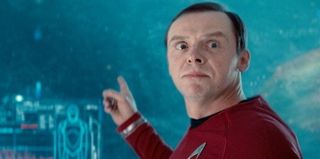 Simon Pegg is known for a number of different talents. He is most widely recognized as an actor, fronting movies like Shaun of the Dead, The World's End, and Paul, and for supporting roles in the likes of Mission: Impossible—Rogue Nation. But he has also written or co-written a number of projects, including the first three movies I mentioned. One thing he's not known for, however, is directing, and don't expect him to break into that role via Star Trek, that's to much pressure.
Pegg, along with Doug Jung, was brought in late in the game to rewrite the script for the now in production Star Trek Beyond. Talking to The Hollywood Reporter as the film prepares to shoot scenes in Dubai, he revealed that he was nervous about taking on the project, and when the subject of directing came up, he said:
Watching Justin Lin—who took over the rebooted franchise when J.J. Abrams moved on to helm Star Wars: The Force Awakens—work definitely sounds like an intimidating proposition. He was at the helm for some of the biggest action movies of the last few years, having directed three of the last four Fast and Furious movies. Maybe if Pegg is going to emulate someone, he should start a little closer to the ground.
At this point, Pegg only has one directorial credit to his name, and that is something called Simon's Cam, a 2004 short that is about "Hitler in a relationship with Ronald McDonald." Yeah, I'm not sure either.
Simon Pegg and Doug Jung took over the Star Trek Beyond writing duties after Paramount Pictures and Roberto Orci, who was writing and going to direct, parted ways over differences regarding the direction of the franchise. The new scribes reportedly massively overhauled the existing script, but according to what Pegg says now, that may not have been Orci's, as it doesn't sound like they even read the earlier version. He told THR:
That could mean that the story may be even more up in the air than we thought. With a layer of secrecy, we don't really know much about the plot of Star Trek Beyond. All the key players are back, and Idris Elba plays the villain, which he says is "groundbreaking," and we've been told that the new film picks up with the crew of the Enterprise in the middle of their five-year mission to explore new worlds. That's all super vague, but that's really all that we know.
We'll have to wait and see how all of this shakes out when Star Trek Beyond hits theaters on July 22, 2016.
Your Daily Blend of Entertainment News
Thank you for signing up to CinemaBlend. You will receive a verification email shortly.
There was a problem. Please refresh the page and try again.