21 Upcoming Movies That Will Help Us Forget The Dismal Summer Movie Season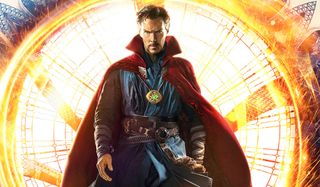 Can we just admit that summer 2016 was a so-so season at the box office? With high profile disasters, mediocre hits that were supposed to be gods, and a couple of surprises here and there, it's been one of the weakest seasons on record. We can't say we weren't warned, but at the same time we're still itching to see where they've hidden the good movies of 2016.
Well, if you're looking at the same calendar we are, they've all been saved for the later half of the year. With a veritable all-star line-up of awards contenders, thinking person's blockbusters, and even a huge streak of whimsy, there's a beautiful tomorrow just around the corner. In fact, this weekend starts that beautiful tomorrow, so join us as we run through a chronological list of the most exciting films for the remainder of 2016!
Kubo and the Two Strings
The buzz on Laika's latest animated masterpiece, Kubo and the Two Strings, has us excited to see this tale of a boy with a special gift, and the epic quest he embarks upon, unfold on the silver screen. Not only are we excited for that, but we're also happy to hear Matthew McConaughey and Charlize Theron as part of an all-star cast that will help bring this vibrant world to life. Most of all, the film just looks flat out gorgeous, and we could use that sort of beauty in our lives.
Don't Breathe
Fede Alvarez impressed the hell into, as well out of, us when he brought his unique style to the Evil Dead remake. So when we heard that Don't Breathe was his next project in the works, we naturally got curious about what this new film would entail. All we needed to hear was Jane Levy and a group of sloppy teenagers versus Stephen Lang as a blind bad-ass. Our bets are already placed for opening night, and it may sound cruel, but we're kind of rooting for Lang.
The Light Between Oceans
Awards season is coming faster than you'd think, and with The Light Between The Oceans fast approaching, we're already getting our tuxes and gowns dry cleaned. With Alicia Vikander and Michael Fassbender helping tell the story of a couple who adopt an orphan without a second thought, we're already hooked. But what amps us up even more is The Place Beyond The Pines director Derek Cianfrance handling the directing duties on what is promising to be another entry in his collection of heartbreaking sadness.
Sully
Of course, when awards season comes to call, real life stories of heroism and bravery also have their place, and Clint Eastwood's Sully is looking to get the jump on all other films aiming for similar goals. Telling the story of Captain Chesley "Sully" Sullenberger's "Miracle On The Hudson" forced water landing, Eastwood and leading man Tom Hanks are setting out to show the more human side to that momentous occasion. All at once tense and tender, Eastwood looks to be in rare form, and Hanks could possibly net himself another Best Actor nomination.
Blair Witch
Lionsgate had the world fooled into thinking that The Woods was going to be this small, indie horror flick that could have taken the world by storm. But as soon as Comic Con rolled around, the powers that be unveiled the fact that director Adam Wingard was given the opportunity to bring his thrill-a-minute toolbox to the saga of the Blair Witch, with a surprise sequel simply titled Blair Witch. Not only does this film look like it'll make us forget that Book of Shadows: Blair Witch II even existed, it looks like it'll remind us why the original was such a big hit in the first place.
The Magnificent Seven
Remakes have become another issue of hot button talks as of late, with Sony taking a fair amount of the flack for their Ghostbusters revival. What's funny though is that this Antoine Fuqua remake of a classic that also was a remake, has escaped unscathed. Though it's not so funny once you watch the trailer for the film, and realize that somehow Sony's marketing team knew exactly how to sell this movie. Let's just hope that the Denzel Washington lead cast can help this film live up to the hype.
Deepwater Horizon
Another "ripped from the headlines" film we'll be seeing this year is Peter Berg's Deepwater Horizon, the story of the drilling disaster that cause the great oil spill in the Gulf of Mexico. Berg's career thrives on films likes this, as he's previously displayed with The Kingdom and Lone Survivor, and will also do with Patriot's Day next January. Mark Wahlberg, Kurt Russell, and Kate Hudson join a cast of notables to tell this disatrous and cautionary tale, and it looks like a solid win for Berg and company.
The Birth Of A Nation
It's hard to talk about The Birth of a Nation without acknowledging the history of Nate Parker and the legal issues that have been brought up from his past. However, if you focus on the work that Parker put into his incendiary and inspiring film about the Nat Turner rebellion, you can see why the film has been buzzed about so incessantly, as well as why Fox Searchlight feels this film should still be released. Judging by the work we see in front of us, this film is as important and vital to modern discourse as ever, and we sincerely hope that all can enjoy it separate from the personal matters in Mr. Parker's camp.
The Girl On The Train
Unreliable narrators make for some of the most fun mysteries, and The Girl on the Train looks to be another film that takes advantage of that device to its fullest extent. With Emily Blunt's Rachel trying to figure out her own actions on the night of a local woman's disappearance, the mystery surrounding the event becomes more and more twisted. We're trying to stay away from as many spoilers as we can, but with the little we've seen about this film, we're more than ready to try and help solve the mystery ourselves.
The Accountant
2016 is going to go down as the year that Ben Affleck kicked all sorts of ass. With an exemplary turn in the otherwise meh-tacular Batman v. Superman: Dawn of Justice, and his next directorial effort Live By Night supposedly coming to us before the end of the year, we couldn't be happier with the man's body of work. That was, until we saw the first trailers for The Accountant, which showcase Affleck as a man who's as good with numbers as he is with a sniper rifle. Anna Kendrick co-stars as a fellow good guy who helps unravel some bad dealings for even worse people, and this looks like it could be a nice, sleeper hit along the same lines as The Martian's surprise success.
Jack Reacher: Never Go Back
Jack Reacher is back, and it's about damned time. With Jack Reacher: Never Go Back, the action hero from Lee Child's book series is investigating a case involving an old friend. A conspiracy is revealed, and naturally Tom Cruise's Reacher is going to smash as many heads and ask as many questions as it takes to get to the bottom of things. With Colbie Smulders playing Jack Reacher's friend, and target of his investigation, it looks like the chemistry of this pair will only be outnumbered by the choreography of the fights they'll have to survive.
A Monster Calls
While animation has scored some of the biggest emotional hits with family-friendly material, A Monster Calls looks like it's about to blow those films out of the water. With Lewis MacDougall's Connor navigating a maze of loss, grief, and bullying, the assistance of Liam Neeson's titular Monster leads to what can best be described as a visually stunning exploration of a child's psyche. Not to mention, the trailers for this film already have us tearing up a bit, so we're prepared for the bittersweet journey that lies ahead.
Doctor Strange
While most are still a bit uncertain about how well Doctor Strange will play, we're more than cautiously optimistic that Benedict Cumberbatch's introduction into the Marvel Cinematic Universe will be something quite special. Dr. Stephen Strange will transform from a cocky man of medicine into a wizened figure of magic before our very eyes, and he'll do so in a world that looks like Inception decided to start reading some Marvel Comics and changed its image accordingly. Magic is coming to the MCU, and it looks like it's one of the best decisions the studio has made in some time.
Arrival
Denis Villeneuve is full of surprises, and Arrival looks to be another one of those gifts we're eager to unwrap at the movies this November. Amy Adams stars as one of the world's top linguists, charged with assisting Forest Whitaker, Jeremy Renner, and Michael Stuhlbarg decipher a cryptic alien language, as well as teach this new species the English language. While the domestic trailer would have you believe this is more of a war movie, the international variant showcases the more tense and cerebral aspects of Villeneuve's latest film, which serves as the perfect appetizer to the work he'll be doing on Blade Runner 2.
Fantastic Beasts And Where To Find Them
New material from J.K. Rowling's Wizarding World is the gift that keeps on giving, and Rowling is delivering her greatest parcel of all with Fantastic Beasts and Where to Find Them. Taking place in America, during the 1920's, the adventures of Newt Scamander and his titular beasties are about to come to life as we've never seen them before. With the history and beastiary of the Harry Potter franchise about to be explored in depth, this adventure is only supposed to be the start of what's planned to be a full trilogy.
Allied
Considering it once looked like Robert Zemeckis would no longer make a film without the power of motion captured performances, the recent run the Back to the Future director has been on is not only surprising, but also on point. Looking to boost his profile after last year's criminally looked over The Wire, Zemeckis has enlisted Brad Pitt and Marion Cotillard to help him claim a piece of World War II glory in Allied. Playing a married couple who may or may not be able to trust each other when one is suspected of being a double agent, the tension and the heartbreak that Pitt and Cotillard look to be embarking on looks nothing short of breathtaking.
Moana
Disney has been crushing it on all fronts, and 2016 is certainly no exception as The Jungle Book, Zootopia, and Captain America: Civil War are already minted as top earners of this year, with Rogue One: A Star Wars Story looking to join its siblings after its December released. However, we wouldn't be surprised if Moana became another film on the list of Disney's big hits, considering that the film not only features the first Polyneasian princess in the Disney canon, but it also features a performance by Dwayne Johnson, and original songs co-written by Lin-Manuel Miranda. Adventure and lyrical merriment look to be on the menu with Moana, and we just can't wait to see it.
La La Land
Speaking of musicals, who would have thought that Whiplash's Damian Chazelle would turn in a beautiful love story after creating one of the most dismal yet hard hitting films ever? That's the beauty of range for you, and Chazelle looks to be broadening the ranges of both Ryan Gosling and Emma Stone with La La Land, as they are his two love-struck leads with a song in their hearts and stardust in their eyes. Though judging by what we've seen in the short, but haunting, teaser, it doesn't look like those two forces alone will be able to keep this pair of lovers together.
Rogue One: A Star Wars Story
What's to be said about Rogue One: A Star Wars Story that hasn't already been said? A prequel spin-off to that independent film series people have been raving about since the 1970's, the film tells the perilous tale of the battle to obtain the plans to the First Death Star. Frankly, that's all we want to know about the film, as we're just ready to let it wash over our eyes and fill our ears with its sci-fi goodness. But yeah, we're a little more than excited for this one. Just a bit.
Passengers
Take a Black Listed script, add Jennifer Lawrence and Chris Pratt, and shake with a variety of actors that would make most other films weep, and you've got Passengers. Lawrence and Pratt play the titled characters, who awake way too early during a 120 year journey to another star system. Romance ensues, naturally, but is also complicated with obstacles that may not only end their love, but also destroy the ship they're living on. Though if there was ever a team we'd expect to make it through this trying time alive, it'd be Katniss Everdeen and Star-Lord.
Sing
With The Secret Life Of Pets becoming the mega hit that it is, Illumination Entertainment is ready for that one, big hit to carry them into consistent box office bliss. Sing just might be it, as it's not only assembled a voice cast that's full of proven dramatic and singing talent, it also looks so damned heartwarming. Everyone has a dream, and to see these animated animals chase after theirs gives us a bit of a tickle in our eyes. You'd cry too if you just wanted a koala with the voice of Matthew McConaughey to succeed in life.
CinemaBlend's James Bond (expert). Also versed in Large Scale Aggressors, time travel, and Guillermo del Toro. He fights for The User.
Your Daily Blend of Entertainment News
Thank you for signing up to CinemaBlend. You will receive a verification email shortly.
There was a problem. Please refresh the page and try again.