How Benedict Cumberbatch Reacted To The Doctor Strange Comic-Con Footage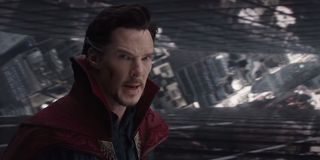 Doctor Strange released its first preview back in April, but the trailer screened at San Diego Comic-Con gave fans a much better taste of what we can expect from the Sorcerer Supreme's solo movie. As the first MCU movie to fully feature magic, Doctor Strange will see the eponymous protagonist and his supporting cast wielding forces that can't be explained by science. These forces were demonstrated in various ways in the second trailer, and star Benedict Cumberbatch was amazed by what was shown to the masses last month.
Speaking with Empire, Cumberbatch expressed how stunned he was to see what he had previously glimpsed in concept art become "reality" in that Doctor Strange trailer, such as the moments showing New York City being moved around "Inception-style." He said:
It's been said many times that Doctor Strange will be a crazy visual experience, and the Comic-Con trailer definitely proved that with its magical demonstrations, like teleporting or conjuring energy whips to showing an entire city folding in on itself or even colliding with reflections of itself. The MCU has had no trouble showing off gigantic action pieces in its other movies, but thanks to the magic finally being introduced, we'll be seeing full-on reality manipulation. Concept art lays the groundwork for what a movie aims to create, but even seeing the vision properly realized can be an incredible experience. Fortunately, we're only a couple months away from seeing the final product and how everything looks completed.
Benedict Cumberbatch was also fond of the "Big Cape Moment" from the trailer, i.e. where Stephen Strange whipped over his trademark red cape over his shoulders like a boss, saying that at that point in the story, the character "earned it." Doctor Strange will follow Stephen's attempts to heal his hands after he is caught in a car accident. Although he's unable to resume his career as a surgeon, he'll find new purpose by learning the mystic arts under The Ancient Wong, Mordo, Wong and others. Although he'll eventually become skilled harnessing magic via spells and ancient artifacts, he'll have to put those skills to the test outside of training when he's forced to battle Kaecilius and his followers to prevent them from harming our realm.
Directed by Scott Derrickson, Doctor Strange will work its magic in theaters on November 4.
Connoisseur of Marvel, DC, Star Wars, John Wick, MonsterVerse and Doctor Who lore. He's aware he looks like Harry Potter and Clark Kent.
Your Daily Blend of Entertainment News
Thank you for signing up to CinemaBlend. You will receive a verification email shortly.
There was a problem. Please refresh the page and try again.