Why Amy Schumer Was Hospitalized On The Set Of Her Latest Comedy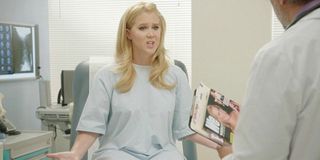 Over the summer Amy Schumer looked like she had the time of her life filming her upcoming comedy Mother/Daughter alongside Goldie Hawn. However, it wasn't all peaches and cream for the comedian, because she's now revealed that she had to take a few days off the shoot to visit a hospital after coming down with bronchitis.
Amy Schumer made this revelation during her appearance on The Late Show With Stephen Colbert on Monday night, admitting that the bronchitis really did a number on her, too. Not only did she struggle to speak because of the condition but she was also bedridden, and then coughed so much that she actually fractured her ribs. During her discussion with Stephen Colbert, Amy Schumer admitted, "Hawaii, it didn't totally agree with me, " which she then went on to explain meant that she got so sick they had to close down production on the comedy for a week so that she could recuperate from her illness and exhaustion.
Which was somewhat understandable considering that Amy Schumer not only co-wrote the comedy alongside Katie Dippold and Kim Caramele but is also the lead actress in the film, too. We've still not got too much information on Mother/Daughter, other than the fact that it's an action/comedy that stars Amy Schumer and Goldie Hawn as the titular duo, who during their vacation to Hawaii are caught up in an unexpected adventure.
Jonathan Levine, who in the past has overseen the likes of The Wackness, 50/50, Warm Bodies, and The Night Before, has taken on directing responsibilities for the project. And if the allure of Goldie Hawn playing Amy Schumer's mother wasn't enough then the fact that the cast is rounded out by the always hilarious Ike Barinholtz (Suicide Squad, The Mindy Project), Wanda Sykes (Curb Your Enthusiasm), and Randall Park (The Interview), as well as featuring Christopher Meloni (Man Of Steel), should do just that.
But don't worry too much about Amy Schumer, because the Trainwreck and Inside Amy Schumer starlet clearly had a blast working on Mother/Daughter for the most part. I mean, just look how happy she is with Goldie Hawn in this picture:
You can also check out Amy Schumer's full interview with Stephen Colbert on The Late Show With Stephen Colbert by clicking below. Which you should, because they're both really super people.
Also, just so you can add it to your calendars, Mother/Daughter will be released next summer on May 12, 2017.
Your Daily Blend of Entertainment News
Thank you for signing up to CinemaBlend. You will receive a verification email shortly.
There was a problem. Please refresh the page and try again.