Batman: The Killing Joke Just Got An Honest Trailer And It's Brutal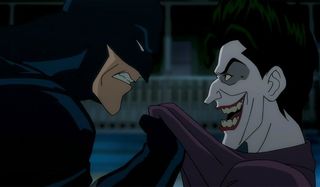 Since Batman: The Killing Joke is widely renowned as one of the finest comic books ever written, and has even been deemed in some quarters as the definitive Batman vs. Joker tale, it was no surprise that its animated adaptation was eagerly anticipated earlier this summer. So when it was eventually released to a tepid critical response, there was frustration amongst Batman fans that the classic graphic novel had been done a disservice. Thankfully, the team over at Honest Trailers have vented their own frustration against Batman: The Killing Joke in the only way they know how. You can check out the Honest Trailer for Batman: The Killing Joke by clicking below:
Yep, that all seems about right. While the releases of both Batman V Superman: Dawn Of Justice and Suicide Squad made sure that the DC Extended Universe got off to a lackluster start for Warner Bros, it was believed that the animated division of the studio would do a bang-up job with The Killing Joke. Especially since, over the years, the likes of Batman: Bad Blood, Justice League: Gods And Monsters, Batman: Assault On Arkham and Batman: Year One have each individually proven that Warner Bros. Animation unit has a pretty good handle of the characters.
Unfortunately, though, they made one crucial mistake in their adaptation of Batman: The Killing Joke; they added a 30 minute prologue that had little to do and tonally jarred with the original story, and which only contributed to make DC fans furious at their meddling. It didn't stop there, though. Because as Honest Trailers points out, watching Barbara Gordon's Batgirl do the no pants dance with Batman was particularly harrowing, too. In fact, the all round treatment of Batgirl in Batman: The Killing Joke was pretty hard to watch, as she found herself repeatedly being talked down to by Batman, who even did some "Batsplaining" to his companion, while she was also drugged, shot in the stomach and then sexually assaulted by the Joker as she lay on the ground, painfully dying.
Honest Trailers weren't the only ways to take umbrage with the Warner Bros Animation's adaptation of Alan Moore and Brian Bolland's The Killing Joke. Most reviewers were left unimpressed by it, too, and it only has a score of 48% on Rotten Tomatoes. Even the vocal efforts of Kevin Conroy and Mark Hamill, who have voiced Batman and the Joker for years, were criticized. In fact, Honest Trailers insisted that the duo's subdued performances sounded like they were delivering lines with "guns pointed at their heads." Harsh, but understandable.
This sudden bastardization of one of DC Comics' most lauded and beloved comic-books got fans wondering if the DC Extended Universe's failings had suddenly become contagious, and spread to the studio's animation wing, too. Still, at least we can all be thankful that Batman: The Killing Joke didn't include anything quite as stupid as Batman V Superman: Dawn Of Justice's Martha scene, though.
Your Daily Blend of Entertainment News