Batman: The Killing Joke Will Play In Movie Theaters, Find Out Where And When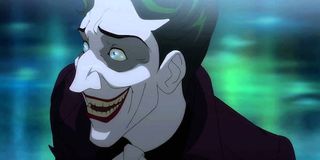 DC Comics has been releasing a steady stream of direct-do-DVD animated movies since 2007, but arguably none of them have gotten as much publicity as the upcoming Batman: The Killing Joke. Adapting writer Alan Moore and artist Brian Bolland's 1988 graphic novel, it's not only bringing one of the most iconic Joker tales of all time to a wider audience, but is also the first R-rated DC Universe Animated Original Movie. It was reported earlier this year that Batman: The Killing Joke will be seen ahead of time at San Diego Conic-Con next month, but now fans will also have another opportunity to see it early for one day only in theaters.
It was announced earlier today that Warner Bros has partnered with Fathom Events to screen Batman: The Killing Joke on Monday, July 25 at 7:30 p.m. and 10 p.m. in select theaters across the United States. In addition to the movie itself, the screening will also have a special introduction from Mark Hamill, a.k.a. the movie's Joker; a never-before-seen documentary about how Hamill was cast in the project and how much the role (which he has been voicing for over two decades); and a behind-the-scenes look at how the "disturbing" Joker song and dance number was created. So if you're already eager to see Batman: The Killing Joke, keep in mind there will be some extra goodies if you watch it in the theater.
After two unsuccessful attempts to get made in 2009 and 2012, respectively, Batman: The Killing Joke was officially announced last July. In addition to Mark Hamill reprising Joker, Kevin Conroy is also reprising Batman, who has worked with Hamill on Batman: The Animated Series and numerous other Caped Crusader-related projects for over 20 years. The movie's cast also includes Tara Strong as Barbara Gordon, a.k.a. Batgirl, and Ray Wise as Commissioner James Gordon, while DC animation legend Bruce Timm is producing.
Staying faithful to the graphic novel, Batman: The Killing Joke will The Joker's past as a struggling comedian, leading up to the "one bad day" that drove him insane and turned him into the Clown Prince of Crime. Meanwhile in the present, Joker will kidnap Gordon to wear away at his psyche, and Batman is the only one who can stop this nefarious plan. Because the original Killing Joke story is actually quite short, the movie will also feature a 15-minute Batgirl-centric prologue to set up the heroine before…certain events occur.
If you're interested in watching Batman: The Killing Joke on the big screen, you'll be able to purchase tickets online starting on Friday, June 17 at Fathom Events or certain box offices. The movie's digital release will happen a day after its theatrical screening, while the Blu-ray and DVD copes will hit shelves on August 2.
Connoisseur of Marvel, DC, Star Wars, John Wick, MonsterVerse and Doctor Who lore. He's aware he looks like Harry Potter and Clark Kent.
Your Daily Blend of Entertainment News
Thank you for signing up to CinemaBlend. You will receive a verification email shortly.
There was a problem. Please refresh the page and try again.