Weekend Box Office: Sully Lands Number One Opening, The Wild Life Runs Aground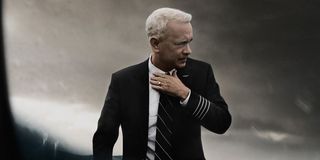 Tom Hanks' latest offering Sully landed in theaters this weekend, making a splash with $35 million. Bad puns aside, it marks a modestly successful opening against a $60 million budget. It also marks a huge moment for director Clint Eastwood as his highest ever opening, eclipsing his previous personal directorial best of $18 million for 2000's Space Cowboys.
A distant second place went to When The Bough Breaks. A $15 million debut weekend easily covered its $10 million budget with enough left over to throw a party for the producers to thumb their noses at critics, many of whom ignored the movie altogether while those that gave it a rating panned it to the tune of 0% at Rotten Tomatoes.
Ever wondered what the story of Robinson Crusoe would be like seen through the eyes of the animals who lived on his island? Yeah, neither had anyone else. The animated feature The Wild Life has banked little more than $20 million during a whirlwind late summer tour around the world, and only added $3 million during its fifth place domestic debut weekend.
Just prior to its sixth weekend Suicide Squad finally pushed past the $300 million mark, adding $5 million over the weekend to land at $307 million. It took fourth place this week behind Don't Breathe which added $8 million to its now $66 million total (a more than 500% return so far on a $10 million budget)
Most horror flicks make money, banking on low budgets and audiences with even lower standards of expectation. A glaring exception was this weekend's debut of The Disappointments Room. As if somehow the movie's name was prophetic, the Kate Beckinsale vehicle earned just $1.4 million despite a wide release in over 1,500 venues. The movie is a solid box office bomb, leaving executive producers holding the bag on a $15 million budget. Don't look for it in the top ten. It opened at number 17.
For the full weekend top ten, check out the chart below:
Your Daily Blend of Entertainment News
Your Daily Blend of Entertainment News
Thank you for signing up to CinemaBlend. You will receive a verification email shortly.
There was a problem. Please refresh the page and try again.