The Toxic Avenger Is Getting A Remake, Get The Details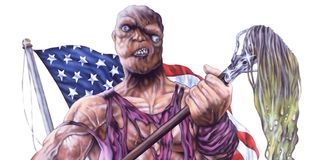 Decades before Marvel teamed its first batch of MCU heroes together in 2012's The Avengers, the most notorious cinematic "avenger" was the Toxic Avenger, the bizarre-looking protagonist from Troma Entertainment. This freakish creation from the mind of directors Lloyd Kaufman and Michael Herz wasn't well received when his first movie first came out, but the superhero comedy has since gone on to be a cult classic. It's held in high enough regard that the movie has earned itself a remake, with Sausage Party co-director Conrad Vernon at the helm.
Described by Deadline as a "more grounded and mainstream telling of the story," the new Toxic Avenger movie will be made under Storyscape Entertainment. Archer writers Mike Arnold and Chris Poole will rewrite the screenplay that was originally penned by Steve Pink and D.C. Mitchell. Kaufman and Herz will be involved as executive producers, along with Storyscape's Bob Cooper and Alex Schwartz. The article also noted that under Conrad Vernon's direction, the Toxic Avenger remake is intended to be a "new franchise play," so there are already plans for this to be a whole series of superhero movies the masses can enjoy.
For those who've never seen the original Toxic Avenger, the story follows a bullied young man named Melvin Herd who worked at a janitor at a health club. During a particularly nasty harassing session from his tormentors, Melvin accidentally falls into a barrel of toxic waste and is mutated into an ugly-looking creature that has super strength. Now known as the Toxic Avenger, Melvin uses his newfound powers to fight crime in the most gory fashion possible. The 1984 movie was followed by two sequels (which were filmed back-to-back) and an "independent sequel" released in 2000 called Citizen Toxie: The Toxic Avenger IV. Several Toxic Avenger books have also been written, and Marvel even published comic book stories focused on the hero briefly in the early '90s.
This isn't the first time a Toxic Avenger remake has been announced. Back in 2010, plans were set in motion to explore the property again, albeit through a PG-13 lense. Arnold Schwarzenegger was reportedly up to star as the eponymous protagonist, while John Travolta was being considered for an undisclosed role, but obviously those castings didn't end up happening. It's unclear from this report how many elements from the previous remake attempts this new version will retain, but with one of the Sausage Party directors leading the charge and hopefully a reasonable amount of faithfulness to the original movies, the new Toxic Avenger movie should prove to be one of the more humorous superhero projects heading to the big screen in the near future.
We'll keep you updated on how the Toxic Avenger remake is progressing as more news comes in, but let us know what you think of the property being revisited in the comments below.
Your Daily Blend of Entertainment News
Connoisseur of Marvel, DC, Star Wars, John Wick, MonsterVerse and Doctor Who lore. He's aware he looks like Harry Potter and Clark Kent.
Your Daily Blend of Entertainment News
Thank you for signing up to CinemaBlend. You will receive a verification email shortly.
There was a problem. Please refresh the page and try again.