Pacific Rim 2 Cast Updates: Here's Who's Confirmed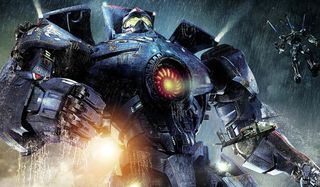 Pacific Rim 2 is going to look totally different from its predecessor when it hits theaters in 2018. Even though the first movie made enough money worldwide to guarantee another chapter, the film wasn't a Transformers-level hit, meaning changes have been made in front of and behind the camera. Original director Guillermo del Toro hands the reigns to new filmmaker Steven S. DeKnight (Smallville, Daredevil) and he's putting together a new cast that stands apart from the initial ensemble of Kaiju hunters.
On the heels of some new casting announcements for Pacific Rim 2, officially subtitled Maelstrom, we figured we'd go ahead and compile the names and faces that have been confirmed. Here, then, is a roll call for the anticipated sequel, starting with a British actor who has become a global sensation thanks to his part in a little something we like to call Star Wars: The Force Awakens.
The following will contain spoilers for the first Pacific Rim, so stop reading now if you haven't already seen it.
John Boyega
Who He Is Playing: The son of Stacker Pentecost, the character played by Idris Elba in the first movie.
Labeled by pretty much all reports as the headlining star of Pacific Rim 2, John Boyega will play the son of Idris Elba's spectacularly named Stacker Pentecost. You may recall that Stacker sacrificed himself in the final battle of Pacific Rim, so his son has good reason for wanting to climb into a Jaegar and rip apart the next wave of Kaiju creatures. Seeing as how we are following Pentecost's son, this should at least confirm that Pacific Rim: Maelstrom takes places after the events of the first movie, but seeing as how plot details are being kept under wraps, this has not been officially confirmed yet.
Scott Eastwood
Who He Is Playing: No clue yet, but if we had to guess, we'd say a Jaegar pilot who'll team with Boyega's character.
With that in mind, we have a number of actors who have signed on the dotted line for Pacific Rim: Maelstrom, but we have no real idea who they are playing. With Charlie Hunnam sitting this one out, the next handsome white dude to step to the plate will be Suicide Squad's Scott Eastwood, who continues to have a strong working relationship with directors, even though I'm not sure people come to movies to see "the new Scott Eastwood joint." That all might change with Pac Rim 2.
Jing Tian
Who She Is Playing: Unclear. Could she be a relative of Rinko Kikuchi's character from the original film?
I'm sensing a trend, here. Where the first Pacific Rim had a white male, an Asian female, and a headstrong African-American in its cast, the sequel is mirroring that blueprint. In place of Rinko Kikuchi, Pacific Rim 2 recently added Chinese star Jing Tian to its ensemble. It's unclear who she will play in the movie, though her previous credits include Jackie Chan's action thriller Police Story: Lockdown and Kong: Skull Island.
Cailee Spaeny
Who She Is Playing: Unknown, at the moment.
Now we get to the point where Pacific Rim 2 seems to be checking boxes to ensure that it's successful with as wide a demographic as possible. If you build a sequel around monsters fighting robots, teenage boys likely will show up. But when you cast a pop singer and up-and-coming actress like Cailee Spaeny, as well, then teenage girls have someone in the mix to whom they can relate... or try to, in this futuristic and over the top scenario. She has been having fun with Rim 2 fans trying to guess her character on social media, so give her a follow, watch her train for the role, and keep the guesses coming.
Levi Meaden
Who He Is Playing: A "cadet," meaning he will be fighting kaiju.
Pacific Rim 2 also recently tapped TV star Levi Meaden -- best known for The CW's The 100 and Netflix's The Killing -- to play "an irreverent and offbeat cadet" in the armed forces ordered to fight the Kaiju, according to Variety.
Adria Arjona
Who He Is Playing: Unknown, at the moment.
Filling out the rest of the supporting cast, Pacific Rim 2 added Adria Arjona, according to Deadline. She is best known as a TV actress, with her credits including guest star roles on Person of Interest and Narcos, recurring in True Detective Season 2 and soon leading NBC's Emerald City as Dorothy Gale.
But will anyone from the original movie return for more action? That's a great question. Read on, to find out what we know.
Max Martini
The IMDB page for Pacific Rim: Maelstrom has Max Martini reprising his role of Herc Hansen in the sequel. This makes sense, as -- much like Pentecost's son -- Herc lost someone very special, his son Chuck, in the final confrontation with the Kaiju. Chuck and Stacker detonated a thermonuclear bomb at the bottom of the ocean, wiping out a massive force of Kaiju creatures... but Herc's likely pissed that his son had to give his life to the cause. Bringing Martini back would be a nice touch, though his casting has not been confirmed (near as we can tell) by the studio.
Ron Perlman
Even if most of the original cast sits out Pacific Rim 2, one character who likely should return is Hannibal Chau, played by longtime Del Toro collaborator Ron Perlman. An organ dealer and rare Kaiju collector, Chau provided very useful information when crazed scientist Newton (Charlie Day) tries to acquire a Kaiju brain for drift testing. If you stayed through the credits on Pacific Rim, you know that Hannibal survived his deadly encounter with a Kaiju, and even though Del Toro's not directing the sequel, bringing Perlman back makes too much sense to overlook it. He's rumored for now. Let's hope they make it official soon.
Your Daily Blend of Entertainment News
Sean O'Connell is a journalist and CinemaBlend's Managing Editor. He's frequently found on Twitter at @Sean_OConnell. ReelBlend cohost. A movie junkie who's Infatuated with comic-book films. Helped get the Snyder Cut released, then wrote a book about it.
Your Daily Blend of Entertainment News
Thank you for signing up to CinemaBlend. You will receive a verification email shortly.
There was a problem. Please refresh the page and try again.