What The Fast 8 Trailer Really Needs To Show Us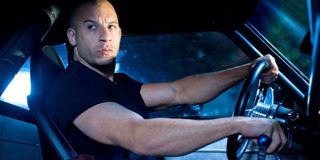 It's rare to find a film series that actually improves with age, but that's exactly what has happened with the Fast & Furious franchise. Beginning as little more than a modern rip-off of Point Break, the heist series has become one of the most popular and profitable franchises in the history of cinema. The series suffered a major blow with the death of Paul Walker prior to the release of Furious 7, but that movie still managed to rise above adversity and elevate the series to new heights. Now the stage is set for Fast 8 to take that one step further.
However, as excited as we are for Fast 8, we still know very little about it. The film will hit theaters on April 14, 2017, and yet we still haven't seen a single trailer for the eighth installment in the long running franchise. Vin Diesel recently took to social media to confirm that the first official Fast 8 trailer will land on December 11, and as such, we've compiled a list of things we want to see when it finally premieres. Now let's get started with one of the most intriguing new additions to the Fast & Furious universe...
Charlize Theron in Character
Quite a fuss has been made over Charlize Theron's involvement in Fast 8 over the last few months. Not only is her character, Cipher, the first ever main female villain in the entire Fast & Furious series, but she's also been described as a very deep character whose motivations will feel incredibly sympathetic to the audience. Theron established herself as a complete powerhouse in the action genre with 2015's Mad Max: Fury Road, and our hope remains high that she brings the same level of intensity to Cipher that she did for Furiosa. Despite all of that information, we still know very little about what truly drives this villainess, so we're anxiously waiting to get a proper glimpse of her in action.
The Rock's Prison Break
Out of all the returning characters in Fast 8, none will experience a major transition quite like Dwayne Johnson's Hobbs. A dutiful soldier and talented marshal, Hobbs will find his life turned upside down when he's wrongfully imprisoned for a crime that he didn't commit. Johnson has teased a new, outlaw-esque look for the character for months, as well as a potential prison break sequence, but we think it's time for us to finally get a good look at the character in action. With the character set to go from lawman to criminal in the coming movie, we want to see how he plans to bust out of prison.
Helen Mirren's Character
Quite a few well known actors have joined the Fast & Furious franchise in recent years, but one of the most fascinating introductions will come with the debut of Helen Mirren's character in Fast 8. Although plenty of great details have come forward regarding the rest of the cast in recent months, we remains incredibly in the dark about pretty much anything having to do with Mirren's mysterious character. With the premiere of the Fast 8 trailer, we may finally gain a little more information into her look, her allegiance, and the skills that she will bring to the table.
New York Action
The Fast & Furious franchise is no stranger to the streets of exotic urban locales, but Fast 8 will take the action to the streets of The Big Apple for the very first time. New York presents a fascinating departure from the streets of Los Angeles, Rio, or even London. The densely populated, grid-based structure of the streets will mark a genuine distinction from the car chases in previous Fast & Furious outings, and we have a very strong feeling that the vehicular carnage in the film will be unlike anything that we have seen from the series before. We don't need the trailer to spoil the best action sequences in the movie, but we definitely need a glimpse.
Jason Statham's Deckard Shaw
Last time we saw Jason Statham's villainous Deckard Shaw, he was sitting in a subterranean prison surrounded by concrete, cameras, and an arsenal of automated machine gun turrets. Do they really think that will hold a force of nature like him? We've known for some time that that Jason Statham would return for the next installment of the Fast & Furious franchise, but the way in which he actually fits into the plot remains a complete mystery. Will hit join forces with Charlize Theron's Cipher? Will he experience a serious change of heart and join forces with Dom's crew? We need answers for these questions, and a trailer could go a long way towards providing those answers.
Vin Diesel and The Rock Working Together
The Rock and Vin Diesel caused a huge commotion earlier this summer when it was reported that the two action stars had become embroiled in a massive on-set feud. After a series of incredibly passive aggressive social media posts, and a ton of opinions from other members of the cast, we were left with the possibility that the feud was nothing more than a stunt to tease a WWE showdown between the two chrome-domed heroes -- although that hasn't officially received confirmation. True or not, we're incredibly anxious to see how this will affect the rapport between their characters, Dom Toretto and Luke Hobbs, when the first footage form Fast 8 finally surfaces. Will they operate like a well-oiled machine, or will there be noticeable friction?
The Return Of Mr. Nobody
Without question, Furious 7's best addition to the entire Fast & Furious mythos was none other than Kurt Russell's Belgian ale sipping secret agent, Mr. Nobody. A charismatic son-of-a-bitch with connections in all of the right places, Nobody opened up this particular universe in unforeseen ways. Whereas the Fast & Furious series had previously focused on street level criminals and car-based heists, the series now has a character that can offer more in the way of espionage, and political intrigue. He's set to make a glorious return in Fast 8 (having seemingly recovered from the wounds he suffered in the previous film) and we want to know how he specifically factors into the chaos that will soon befall Dom Toretto's crew.
Originally from Connecticut, Conner grew up in San Diego and graduated from Chapman University in 2014. He now lives in Los Angeles working in and around the entertainment industry and can mostly be found binging horror movies and chugging coffee.
Your Daily Blend of Entertainment News
Thank you for signing up to CinemaBlend. You will receive a verification email shortly.
There was a problem. Please refresh the page and try again.