6 Badass Movie Cars The Furious 7 Cast Wants In The Sequel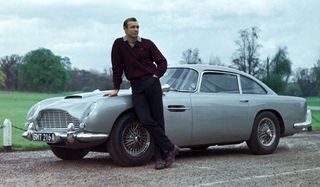 Over the course of the Fast & Furious franchise, we've seen the stars hop into all kinds of awesome vehicles – some of which have managed to become iconic in their own right in the legacy of action movies. The truth of the matter is, however, that cinema is filled to the brim with legendary cars often driven by legendary stars. This got me thinking: if the crew of Furious 7 could drive any classic movie car in the franchise's next sequel, what would they choose?
Fortunately, I was able to get an answer to that very question earlier this month while attending a special press event in Los Angeles for the upcoming blockbuster. Having the opportunity to talk with Jason Statham, Vin Diesel, Jordana Brewster, Tyrese Gibson, Nathalie Emmanuel, and Dwayne Johnson, I asked them all the aforementioned question, and they gave me a fantastic variety of answers and explanations. Click through the next few pages to see their picks!
Jason Statham
Character: Deckard Shaw
Personality: Though we technically first met him in the post-credits sequence of Fast & Furious 6, but Jason Statham's Deckard Shaw gets fully fleshed out in an excessively badass villain role in Furious 7. He's a government trained ass-kicker, and he's on a mission to avenge his brother, Owen Shaw, by killing the series' protagonists.
Movie Car of Choice: Befitting a character that's all about muscle and speed, Jason Statham went for a rather classic car with his choice, and decided to take a vehicle out of Steve McQueen's garage: the 1968 Ford Mustang GT from director Peter Yates' crime thriller Bullitt. Not only is it an awesome choice, but this car definitely wouldn't look at all out of place in a Fast & Furious film.
Vin Diesel
Character: Dominic Toretto
Personality: Dom is pretty much defined by the loyalty he has to his family – which obviously consists of the rest of his car-driving crew. Nothing matters more to him than protecting the ones that he loves, and he goes to some pretty extreme lengths throughout the franchise to prove that.
Movie Car of Choice: Given Dom's level of loyalty, you didn't really expect that he would go outside of the Fast & Furious franchise, did you? At first he pitched the idea of bringing back any car from the previous entries of the series, but ultimately he settled on the red Chevy Chevelle SS 454 from the third sequel, Fast & Furious. Also, did you know he wound up giving that car to his one year old daughter?
Jordana Brewster
Character: Mia Toretto
Personality: One of the founding members of the Fast & Furious franchise, she has long been both the heart and the lynchpin of the series, being both the sister of Dom, and romantic interest/wife of Brian.
Movie Car of Choice: In the Fast & Furious series, it's been demonstrated that Mia is a talented driver – though not quite on the level of Dom, Brian, or Roman. Fortunately, Jordana Brewster's car of choice somewhat eliminates the need for skills behind the wheel. This is because she chose James Bond's Aston Martin, highlighting the fact that it has many cool gadgets that the crew could definitely use during a job.
Tyrese Gibson
Character: Roman Pearce
Personality: As described in Furious 7, Roman is what you might call the "joker" of the group – and that kind of means two things. On the one hand, he's always good for a funny line, but he's also quite used to playing the fool. All the same, he is definitely one of the most skilled drivers in the Furious crew.
Movie Car of Choice: Like Vin Diesel, Tyrese Gibson decided not to go outside the Fast & Furious franchise for his pick – but the big difference is that he actually decided to pick a car that he himself did not have the chance to drive. His number one pick, as seen in the image below, was the Nissan Skyline that Brian O'Connor drove in 2 Fast 2 Furious (the movie that introduced Roman to the series). Definitely watch the video, because he has some pretty funny things to say about the car, and his feelings about his ride in Furious 7.
Nathalie Emmanuel
Character: Ramsay
Personality: Nathalie Emmanuel makes her debut as Ramsay in Furious 7, and is quite unlike any character we've seen in the franchise before. Rather than being an expert on cars, she is a hacker of the highest order, and she uses her special skills to help get the gang out of crisis multiple times.
Movie Car of Choice: As noted, Ramsay isn't too big behind the wheel, but the actress' choice definitely reflected part of her character's more "geeky" nature. For her pick, she chose Herbie The Love Bug, which obviously comes with the awesome advantage of being able to drive itself.
Dwayne Johnson
Character: Luke Hobbs
Personality: Introduced to the franchise in Fast Five, Luke Hobbs is the government bounty hunter and member of the Diplomatic Security Service who at first was an antagonist for the car-driving crew, but has turned into an immensely powerful and reliable ally.
Movie Car of Choice: Pictured below is the Lamborghini Gallardo from Mission: Impossible III, though it isn't exactly the movie car that Dwayne Johnson requested. Instead, Johnson smashed his way through the walls of the game – turning down the Back To The Future DeLorean and the Batmobile – and instead requested that the next sequel get him a custom made Lamborghini built specifically for Hobbs. Frankly, this would probably be necessary, as I'm not sure the action star would actually fit in a standard Lambo.
Furious 7 arrives in theaters tomorrow, April 3rd
Your Daily Blend of Entertainment News
Assistant Managing Editor
NJ native who calls LA home and lives in a Dreamatorium. A decade-plus CinemaBlend veteran who is endlessly enthusiastic about the career he's dreamt of since seventh grade.
Your Daily Blend of Entertainment News
Thank you for signing up to CinemaBlend. You will receive a verification email shortly.
There was a problem. Please refresh the page and try again.