Why 13th Is The Most Important Film Of 2016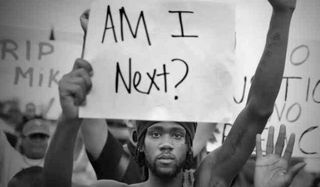 Let me get straight to the point: 13th is a stirring, impassioned, and powerful piece of filmmaking that needs to be seen by as many people as possible so that it can help individuals realize and understand the tragedy, trauma and the despicable evolution of racism that has befallen the black community over the last 150 years. So much so that it is easily one of the most important films of 2016.
Considering its content, 13th could easily boil over with rage, and suffer as a result. But, instead, director Ava DuVernay mixes heartbreaking and powerful archival footage with compelling, informative interviews to create a measured and vital documentary that charts how African Americans have been systematically mistreated and abused by political institutions since the end of the Civil War.
Don't get me wrong, 13th's energy and vigor is infused with an anger and frustration about how African-Americans have been treated throughout the history of the United States Of America. But Ava DuVernay is too intelligent and smart a filmmaker to let this rightful fury over this systematic injustice overwhelm her work.
13th charts the plight of African Americans from the end of the American Civil War, which is when the Thirteenth Amendment to the United States Constitution (which inspires the film's title) was made, all the way to the current day. I mean very current day, as there is a segment of the film that even mixes archival footage from the Civil Rights movement of racists attacking stoic black individuals with the words and rhetoric of a certain Presidential candidate, as well as sequences about Black Lives Matter and how social media has helped raise awareness.
DuVernay is somehow able to condense 150 years of American history into a concise, intimate presentation of how racial inequality has evolved and become more subtle in this country, and is still on going to this very second. This includes analyzing how D.W. Griffith's The Birth Of A Nation popularized racial bigotry through its use of black characters, to how the Civil Rights Movement finally brought an end to the Jim Crow laws that meant racial segregation was still enforced in the USA until 1965.
Yet, even after the Civil Rights Act was signed into law in 1964 and outlawed discrimination based on race, color, religion, sex, or national origin, the political system, as well as the media, were able to slyly alter their rhetoric that still enforced racial barriers across the USA. DuVernay is un-wielding in her attacks on how they have failed generations. She shows how Richard Nixon's promise to bring law and order to the country focused on imprisoning many members of the black community as "crime came to stand in for race", and DuVernay coldly but emphatically attacks Ronald Reagan's "War on Drugs" as well as noting how Bill Clinton's militarization of the police and introduction of mandatory minimums only exacerbated the problem.
Ava DuVernay doesn't glitz up the film, instead allowing the talking heads to present us with the facts and figures that will leave you shocked and depressed. Sure, the information can get heavy at times, leading to moments when your interest will wane. But its effective use of still photography, stats, and the testimonies from a wide-range of compelling individuals that have been personally effected and changed by these issues means that 13th always feels vital, important, and an integral cog on the vehicle for change.
13th was the opening film of the 54th New York Film Festival. But you don't have to wait too long to see it, as it will be released on Netflix on October 7. Rather than being peeved that 13th won't be in cinemas, Ava DuVernay is instead ecstatic that it will be shown on Netflix. You can find out why by clicking onto the next page.
After the screening of 13th at the 2016 New York Film Festival I was lucky enough to see Ava DuVernay being interviewed by Kent Jones. During their half-hour discussion, DuVernay, who previously directed Selma, spoke about why she believes the immediacy of showing 13th on Netflix is perfectly suited to the film, especially since it will bring it to audiences that wouldn't likely see it. DuVernay explained:
13th is just the latest impressive documentary to have come from Netflix over the last few months, with What Happened, Miss Simon, Making A Murderer, and Amanda Knox all receiving positive reviews and capturing the imagination and attention of a huge audience.
Especially in the build-up to the upcoming Presidential election, 13th should follow in these footsteps. We'll be able to see if it can do just when it's released on October 7th.
Your Daily Blend of Entertainment News