How Racism Is Affecting Denzel Washington's Career, According To Sony Emails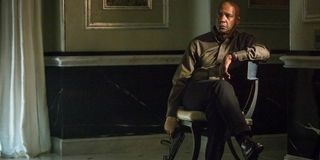 Denzel Washington is the latest actor to become embroiled in a situation involving the Sony email hacking scandal. However, it should be made clear that the actor doesn't actually participate in the comments, instead he is simply the topic of them. According to reports, one Sony producer has been revealed saying that that the reason international audiences don't go and see Denzel Washington's films is because they are "racist."
According to The Independent, emails were exchanged between Sony Chairman Michael Lynton, and an unnamed producer just after The Equalizer had been released in September. In an email chain acquired by the British newspaper, the producer declared that The Equalizer's gross of $191.6 million simply wasn't enough, and that it had failed to achieve success outside of the United States of America because of the color of Denzel Washington's skin. He then added that films with an African American Lead don't generally play well overseas. The producer told the Sony executive that he hoped his comment was not "inappropriate or provocative," but he was simply looking for a reason why the film hadn't grossed as much as they'd anticipated.
After making this claim, the producer criticized Sony for not understanding that in order for any movie to truly succeed, it must also appeal to the rest of the world rather than just the inhabitants of the United States. The unknown producer also suggested that casting Denzel Washington in The Equalizer's was a safe decision, but not necessarily the right one. They said that they believe that Denzel Washington is the best actor of his generation, but the fact that he hasn't had a bona-fide success in a number of years means that The Equalizer should have cast a different lead actor instead.
The Equalizer wasn't actually a failure for Sony. In fact, its opening day gross of $12.6 million was the third biggest of Denzel Washington's career - falling just behind the $15.8 million and $13.6 million that American Gangster and Safe House took in. However, there's no denying the fact that The Equalizer did fail abroad. It only took in $90.8 million in foreign territories, which falls short of the $100.7 million it amassed in the United States. This is notable since so many other films this year have international box office total s dwarf the numbers put up at home. Transformers: Age Of Extinction, for example, grossed $245 million in the US, but made a staggering $841 million abroad. It makes you wonder what's going to happen to the The Equalizer sequel that is said to be in development now.
Your Daily Blend of Entertainment News