How Jurassic World 2 Will Be Different Than The Other Movies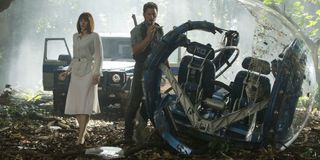 After it became the fourth highest grossing film of all time last summer with a haul of $1.670 billion, there was always going to be a sequel to Jurassic World. In fact it's already been confirmed that Jurassic World 2 will be followed by a third installment, too. Rather than trying to follow the same plan as its immediate predecessor, director Juan Antonio Bayona has worked out a plan to make Jurassic World 2 unique to the other editions of the franchise.
That's according to Colin Trevorrow, the director that Juan Antonio Bayona will be replacing on Jurassic World 2. Don't fret though, because Colin Trevorrow is still heavily involved in Jurassic World 2, as he's co-written the film alongside his writing partner Derek Connolly. While chatting to Jurassic Outpost, Colin Trevorrow revealed that Juan Antonio Bayona had been specifically picked because of his previous work, which they hope will make the follow-up idiosyncratic. Trevorrow said of Jurassic World 2:
At the moment, Juan Antonio Bayona might only have two feature film directing credits to his name, but his third film A Monster Calls has already received rave reviews coming out of the Toronto Film Festival. You can check out Cinema Blend's very own Sean O'Connell's hugely positive view on the film here. Juan Antonio Bayona's first feature film, The Orphanage, received critical acclaim upon its release in 2007, with moviegoers quick to praise its genuine scares that were deeper and more intense than most other Hollywood efforts. From the sound of things, these are traits that Bayona has been asked to explore even more with Jurassic World 2.
It took five years for Bayona to make a follow-up to The Orphanage, which arrived in 2012 with the emotional disaster drama The Impossible. While on the face of it The Impossible doesn't seem like a precursor to Jurassic World 2, the fact that Juan Antonio Bayona was able to stretch the rather paltry $45 million budget to create an astonishing tale and breath-taking set pieces suggests that he'll be able to do the same with Jurassic World 2. Especially since its budget is set to be four times as big as The Impossible's.
The appointment of Juan Antonio Bayona to Jurassic World 2 wasn't just made on a whim. The Spanish filmmaker was actually approached to oversee Jurassic World 2 shortly after the original's success, but negotiations didn't get very far as he'd already signed on to direct the proposed World War Z sequel. After he dropped out of the zombie blockbuster, producers Frank Marshall and Steven Spielberg pursued Juan Antonio Bayona again and the Spaniard finally wilted and accepted the position. We'll finally get to see what he can do at the helm of the film when Jurassic World 2 is released on June 22, 2018.
Your Daily Blend of Entertainment News
Thank you for signing up to CinemaBlend. You will receive a verification email shortly.
There was a problem. Please refresh the page and try again.