Jurassic Park 5 Is Happening And 2 Major Stars Will Return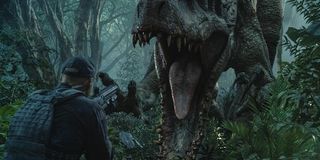 Now that it's officially the third highest grossing movie of all time, having passed The Avengers, the fact that Jurassic World will be getting sequels is not a surprise. Hell, everyone assumed as much going in, and that was before it made more than $1.5 billion. But now we're starting to get some details, including when we'll see Jurassic World 2/Jurassic Park 5 and who is coming back for a few more rounds with the dinosaurs.
The Wrap reports that both of the two primary stars of Jurassic World, Chris Pratt and Bryce Dallas Howard, will reunite for the sequel, which is now scheduled to be released on June 22, 2018. Steven Spielberg, who, of course, fathered the franchise back in 1993, will return in his new role as producer, as will Frank Marshall. However, there is no news on whether Jimmy Buffett will have another cameo this time around. We'll have to wait and see on that front.
To be fair, none of this should be a huge surprise. Not to ruin anything for the five of you who haven't seen it, but they both survive until the end. Not to mention that after two-plus hours of sexually charged banter and almost being devoured by rampaging dinos, they finally form a love connection of their very own. Even before the movie was released, Pratt was talking about how he had already signed on for more movies—this was, after all, designed to relaunch the franchise, not just as a one off.
And with the massive success, which exceeded even the loftiest expectations, the prime summer release spot is also what we anticipated. Now, however, we get to watch the mad scramble as studios rearrange their release slate so their movies are nowhere near this one. That's always fun.
There's no word on a director at this point, though we do know it won't be Colin Trevorrow. He has said that now that he has this blockbuster under his belt, he wants to make more original movies. And why not? Right now he has the clout to get any dream project he wants off the ground, and if there is any credence to those Star Wars: Episode IX rumors, he may very well be busy in a galaxy far, far away.
At this juncture we don't know anything about plot of Jurassic World 2. The park is likely done, you don't come back from a disaster like this, but there is the military angle to contend with. BD Wong's character, Dr. Henry Wu, is also out and about, which is something that will need to be dealt with. Once upon a time before the release, there were rumors that Omar Sy's character, Barry, who works with Chris Pratt's Owen training Velociraptors, may have a more prominent role in the sequels, so that is also an element that could factor in.
Basically, we have no idea what is going to happen, but now we know we'll see it on June 22, 2018.
Your Daily Blend of Entertainment News