8 Underrated Horror Movies From The Past 5 Years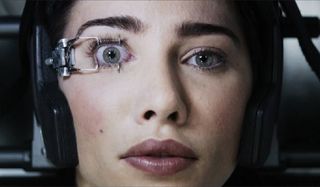 While some of you may not have noticed it, 2016 has been an absolutely outstanding year for the horror genre. The Witch started the year off strong, but since then we have been effectively spooked by The Conjuring 2, Hush, Don't Breathe, 10 Cloverfield Lane, and more. Sadly, the same can't be said for the last few years, which have had a few standout titles at best, amongst plenty of mediocrity.
That being said, there are some horror movies from the last five years that were dismissed by critics, but deserved more shrift than they got -- and that's what we're here to talk about today. While not a complete list, we've compiled a batch of what we feel to be some of the most underrated horror movies to come out since 2011. Check out our choices, read our reasons, and then hit the comments section at the bottom with your own selections!
Final Destination 5
In 2011, the Final Destination franchise was in serious trouble. What had started as a fun series built around Rube Goldberg-esque death scenarios seriously wore out its welcome by the time that the stupidly-titled The Final Destination rolled around -- and as a result people weren't paying much attention when director Steven Quale's sequel rolled around. This is unfortunate, because the truth is that it's one of the best in the run.
Final Destination 5 immediately gets points for not having a stupid title, but it gets even more for bringing back everything fans love about the franchise. The inciting incident doesn't top Final Destination 2 (nor will anything now or in the series' future), but it most definitely features some of the most shocking and gruesome deaths that the movies have to offer -- including the gymnastics incident and the "malfunction" at the laser eye center. It also deserves a tremendous amount of credit for featuring one of the best manufactured twists we've seen in mainstream horror in the last few years, so if you haven't learned about it yet, do yourself a favor and put this one on your to-do list immediately.
Silent House
Elizabeth Olsen immediately established herself as a fast rising star in 2011, in large part because of her role in the critically-acclaimed cult drama Martha Marcy May Marlene. What most people forget, however, is that Olsen had two features at the Sundance Film Festival that year - the other being Chris Kentis and Laura Lau's Silent House. The rave reviews received by the former effectively drowned out the middling reviews received by the latter, but it's actually something that genre fans should give a chance.
Silent House's big hook is that the movie is a home invasion thriller that happens in real time and in one continuous shot -- and while the truth is that there are a few invisible cuts, the film is scary and effecting. It's approach creates a unique claustrophobia as Elizabeth Olsen's Sarah hides from her attackers all around her family's old, dilapidated house, and while the finale is far from the best horror ending we've seen in recent years (that award going to The Babadook), it doesn't totally undercut the intense thrills that precede it.
Evil Dead
As a result of multiple genre changes from project-to-project, a lot of people forget the initial intentions of Sam Raimi's The Evil Dead. While cult audiences eventually fell in love with Bruce Campbell's Ash Williams and his sassy one-liners in the sequels, Raimi primarily brought his brothers and his friends into the backwoods of Tennessee to shoot a remarkably gruesome, horrific horror movie. Because of this misperception, a lot of critics dismissed director Fede Alvarez's mostly humorless, absolutely disgusting Evil Dead "remake" in 2013 -- but the truth is that the film is the an important piece within the larger franchise puzzle, and executes Sam Raimi's original vision with passion and disturbing energy.
The word "affecting" doesn't quite do 2013's Evil Dead justice, as it is one of the few films in recent years that makes you want to crawl under your seat so badly that you're willing to risk the stickiness and popcorn residue. From some gnarly face dissection with a piece of jagged mirror, to artful application of an electric carving knife, to an unholy use of a box cutter, the movie makes even the most seasoned horror vet want to turn from the screen every five minutes. I still have my fingers tightly crossed that Jane Levy will one day make her way to Starz's Ash vs. Evil Dead.
Paranormal Activity 3
There isn't a more divisive franchise in modern horror than the Paranormal Activity movies -- with some deriving legitimate chills from the action, and others deriving legitimate boredom. The Blair Witch Project-esque "is it real?" question helped float the first movie, but each successor faced the question of how to make security cam footage interesting. It's a serious problem in the underwhelming Paranormal Activity 2, but Paranormal Activity 3 actually does have a particular spark.
In this case, it's hard not to give credit to directors Ariel Schulman and Henry Joost, who were just coming off the controversial success of Catfish. Not only is Paranormal Activity 3 a nice franchise change-up in that the story is set back in the late 1980s (literally a bit of found footage in the Paranormal Activity universe), it also actually utilizes some cool cinematic tools -- the standout being the camera strapped to an oscillating fan. It sucks that the series ultimately ended quite pitifully, but this is a bright spot within it.
The Visit
I'm like many of you: I lost faith in M. Night Shyamalan years ago. In fact, I lost faith a lot earlier than most, as I fell off the writer/director's bandwagon after the twist in Unbreakable. Of course, it's still hard to ignore the true talent on display in The Sixth Sense, and the truth is that The Visit is a surprising small-scale horror film.
In addition to being one of the better examples of found footage in recent years (a genre that has been somewhat unfairly written off), the effectively creates a skin-crawling atmosphere out of what many of us would consider completely ordinary: a trip to grandma and grandpa's house. It does come with the patented M. Night Shyamalan twist, but it's a modest one that doesn't take over the story and instead merely heightens it. Surely many of you are still on the fence about Shyamalan, but between The Visit and his buzzed-about upcoming Split, it looks like the guy is on a road to redemption.
Insidious
It's weird to think that James Wan was shocking audiences with the original Saw a full 13 years ago, but he has seriously come a long way since then, and established himself as one of Hollywood's premiere genre filmmakers. To date, his crowning achievements have been both of the Conjuring movies, which combine based-on-a-true-story elements with period horror to generate a compelling series -- but not to be overlooked is the first Insidious, which didn't quite get the reviews it deserves when it dropped back in 2011.
The film is part of the same paranormal spirit subgenre that has become irritatingly popular in mainstream horror, but James Wan has proven himself one of the few filmmakers who can work it properly. Patrick Wilson and Rose Byrne make a great duo playing a pair of parents facing down an evil spirit that is tormenting their son, and it manages to simultaneously create its own cool mythology and special aesthetic with the introduction of The Further. The sequels that followed aren't as good, but the first Insidious is a fun, haunting ride.
Sinister
When watching writer/director Scott Derrickson's Sinister, there are moments when it's hard to focus on the figures in the frame simply because the empty space finds itself more captivating. The movie weaves a largely ordinary story about a grisly murder that seems to be haunting the new residents of a spooky house, but what makes the underwhelmingly-reviewed film work is the atmosphere and growing suspicion that evil is going to creep out of a dark shadow.
While genre tropes like spooky kids and demon faces in photographs won't blow any horror junkie away, the film does stay with you just because of how it makes you feel while watching it. The R-rating allows for the videos being watched by Ethan Hawke's Ellison Oswalt to be effectively dark and disturbing, but it's the terror outweighs the horror in this one, and even more impressive is that Sinister doesn't overly exploit it with cheap jump scares. It's not perfect, but with time and reflection we feel it's now fair to call it underrated.
Crimson Peak
Guillermo Del Toro stands tall as one of the film industry's seriously under-appreciated auteurs. Even when the critics do connect with his work, it's rare for the filmmaker to get much love at the box office (particularly domestically). In the case of Crimson Peak, it was a loss on two fronts -- as the film was neither supported by big buzz, or general movie-goers. It's sad, because while it may not be the best representation of Del Toro's skills, it is an epically beautiful and well-told gothic horror story.
There admittedly isn't a tremendous amount to the script - which has only a modestly decent mystery propelling it and completes with a predictable twist -- but boy is Crimson Peak absolutely stunning. The film's eponymous house is a true piece of art, and every angle that reveals a new portion of it manages to deepen its beauty. It also certainly doesn't hurt to pack the cast with a powerful triumvirate in Mia Wasikowska, Jessica Chastain and Tom Hiddleston, who all deliver fantastic turns. In summation, it's Guillermo Del Toro's most underrated work.
Assistant Managing Editor
NJ native who calls LA home and lives in a Dreamatorium. A decade-plus CinemaBlend veteran who is endlessly enthusiastic about the career he's dreamt of since seventh grade.
Your Daily Blend of Entertainment News
Thank you for signing up to CinemaBlend. You will receive a verification email shortly.
There was a problem. Please refresh the page and try again.