These Star Wars: Rogue One Character Posters Are Haunting And Beautiful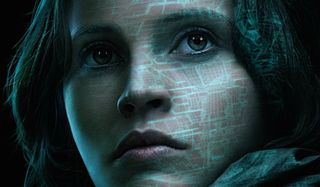 Disney and Lucasfilm are kicking marketing up for Rogue One: A Star Wars Story up to the next level now that the movie is only two months away from hitting theaters. Last week a new poster was released, followed by the last full-length trailer a day later. Starting this week, Rogue One has circled back to posters, but this time, nearly all the main players in the movie are getting their own sheet to shine on, all of which have an eerie, yet cool, quality.
Starting off, we have our main protagonist, Jyn Erso, played by Felicity Jones. Having spent most of her on the run and battling the Empire in her own way, she'll be recruited by the Rebel Alliance to lead a team to find her father, a scientist who played a key role in the creation of the Death Star.
Next is Cassian Andor, played by Diego Luna. He is an "accomplished Rebel Alliance Intelligence Officer" who has plenty of experience in the field, so he'll be a welcome asset when the Rebels attempt to pull off this integral mission.
Then we come to K-2SO, played by Alan Tudyk. He was originally an Imperial enforcer droid, but thanks to Cassian Andor reprogramming him, he now serves the Rebellion, although that won't spare his new masters from his snarky personality.
Fourth is Saw Gerrera, played by Forest Whitaker. Saw first appeared in the Star Wars: The Clone Wars TV series as a soldier fighting against the Separatists on his home world. Nearly 20 years later, he's a little worse for wear, but he hasn't stopped fighting back against injustice and tyranny, only this time it's the Empire that's in his sights.
Following Saw is Bodhi Rook, played by Riz Ahmed. Bodhi was originally an Imperial pilot, but later defected to the Rebel Alliance to put his talents to better use. However, he still wears an Imperial insignia on his shoulder to remind him of where he came from and what he's done.
Next up is Chirrut Îmwe, played by Donnie Yen. Although blind, he is a formidable warrior thanks to intense physical and mental discipline. He is also deeply spiritual, and while not a Jedi, he places all his faith in the Force.
Then there's Baze Malbus, played by Jiang Wen. Unlike his friend Chirrut, Baze is not spiritual, preferring to rely on his own warrior skills and massive blaster to get the job done. That said, he'll do anything to protect Chirrut as they fight the Empire.
Finally, we have our main antagonist, Orson Krennic, played by Ben Mendelsohn. As the Director of Advanced Weapons Research for the Imperial Military, Orson is a ruthless man who will do whatever it takes to make sure that the Death Star is completed on time. So when a group of Rebels attempt to steal the plans for the battle station, he'll use all the resources at his disposal to try to eliminate them.
It's a shame that Jyn Erso's father Galen (played by Mads Mikkelsen) didn't get his own poster and unofficial face tattoo like the others, but rest assured, he will play an integral role in Rogue One. We also would have loved for Darth Vader to receive his own poster, even though it's still unclear how much screen time he'll have. Regardless, if you want to draw as much people into the spinoff, promoting Vader as much as possible (i.e. without giving away any crucial plot details) is a wise course of action.
Rogue One: A Star Wars Story will be released on December 16.
Your Daily Blend of Entertainment News
Connoisseur of Marvel, DC, Star Wars, John Wick, MonsterVerse and Doctor Who lore. He's aware he looks like Harry Potter and Clark Kent.