Natalie Portman's Jackie Performance Is Audacious, Exhilarating, And Makes Her The Oscar Frontrunner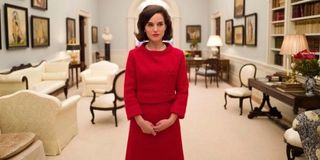 Cinema has missed Natalie Portman. Since her Oscar-winning performance in Darren Aronofksy's Black Swan back in 2010, she's only appeared in a handful of other films, none of which even came close to matching her rousing portrayal of the ballerina that descends into madness. Not even her work opposite Danny McBride in Your Highness. I'm kidding.
Over the last year Portman, who took time off after her marriage and the birth of her first child, has popped up more regularly, though. But while Terrence Malick's Knight Of Cups, her directorial debut A Tale Of Love And Darkness, and the solid but ultimately forgettable western Jane Got A Gun each gave us a glimpse of her prowess, they didn't provide her with the material or scope to flourish.
But if any of you out there were silly enough to think that Natalie Portman might have lost it, then Jackie is the definitive reminder that the 35-year-old is easily one of the best actresses working today. In fact, her performance as Jacqueline Kennedy in Pablo Larrain's startling biopic is so mesmerizing and gut-wrenchingly brilliant that it has instantly become her crowning achievement as an actress.
What's so remarkable about Natalie Portman's performance is that while the film unfolds in the 10 days following the assassination of her husband, the 35th President Of The United States John F. Kennedy, that's merely a backdrop. And while it's a catalyst, we never yearn to see more of it. Instead, our entire focus is on Jackie Kennedy, our entire gaze is on Portman, and you're so thoroughly enthralled that you hardly even think of the tragedy as JFK (Caspar Phillipson) appears in just a handful of scenes.
As Jackie, Portman glares rather than erupting in understandable fury. But she's just as powerful with her eyes, her stoic face, and even with an elegant puff of her cigarette, and her attempt not to contort her face, or just the slight movement of her eyebrow, eye, cheek or lip evokes a wave of feelings. Since Natalie Portman is portraying one of the most famous women in American history, whose mannerisms, style, and presence were all iconic, she had to nail down the details in order to flourish. But it's utterly remarkable how pitch perfect and transformative she is any and all of these regards.
Natalie Portman is able to carry Jackie's fashion with subtle, nonchalant aplomb and then she perfectly mimics her breathy voice to such a startling extent that it's a little unsettling but never obtrusive. Instead it imbues her performance with an authenticity that immediately elevates, provides the film with a distinction of class, and establishes its rhythm thanks to her slow, drawn out but still engrossing delivery.
All the while Natalie Portman is still recognizably Natalie Portman. Her star quality still shines as she shows Jackie as someone that's uncomfortable with her own beauty, stature, and what that projects, especially in the wake of JFK's death and where that leaves her and her children's future. The parallels between Jackie's fame and Portman's own life in the public eye adds an extra layer of vulnerability to her portrayal. While since Jackie spends most of the film looking to control and manipulate her husband's legacy and reputation, using the media to her advantage in the days after his death, there's a drive that suggests this is a power Portman envies.
Like Darren Aronofsky with Black Swan, Pablo Larrain's direction doesn't overly pronounce Portman's portrayal but it makes sure she's always front and center, often presenting her in the middle of the frame like a painting, with Portman teasing the requisite hidden depths, while the camera shoots directly for the heart and emotion of her performance like a bullet from a gun.
It's a truly mesmerizing performance, from a deeply impressive film, while you'll be able to read the review for _Jackie _closer to its release date of December 2, 2016.
Your Daily Blend of Entertainment News