The Hilarious Reason Oasis Wouldn't Record Any Music For Trainspotting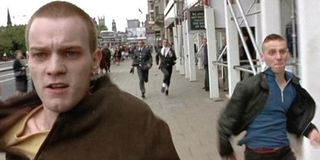 Released in 1996, Trainspotting hit cinemas at a time when Great Britain was beginning to find its swagger again. The moniker Cool Britannia was even being used to label the country's surge in pop culture, which expanded from film to fashion, but began with the wave of bands, most notably Oasis. It's now been revealed that there was the perfect opportunity for Oasis to play a part in Trainspotting's success, as director Danny Boyle actually wanted to use an Oasis song in the hit film. The problem was that Noel Gallagher rejected his proposition because he thought it was actually about train spotters rather than heroin addicts.
According to the Edinburgh News, Trainspotting's costume designer Rachel Fleming made this admission at a special 20th anniversary screening for the classic, where she took part in a Q&A with producer Andrew MacDonald. Fleming admitted:
Andrew MacDonald also admitted that director Danny Boyle originally wanted Noel Gallagher to either allow an Oasis song or to write a new track for Trainspotting because they're both from in and around Manchester. But Gallagher, who had obviously not had a chance to peak through Irvine Welsh's book of the same name that was used as inspiration for Trainspotting, literally judged the book by its cover and turned them down.
It didn't really go on to have an adverse on either Trainspotting or its stellar soundtrack, which is roundly agreed to be one of the greatest ever assembled and is comprised of tracks from other bands of the Britpop era like New Order, Elastica, Blur, Pulp and Underworld, while the most iconic moments of the film are set to songs from Iggy Pop and Lou Reed.
Danny Boyle and Noel Gallagher have a chance to right this wrong, though. That's because Boyle is currently putting the finishing touches to T2, which is a sequel to Trainspotting that sees the film's original line-up of Ewan McGregor, Ewen Bremner, Jonny Lee Miller and Robert Carlyle reteam 20 years later. You can check out the trailer for T2 below.
Meanwhile, Noel Gallagher and his younger brother, and lead singer of Oasis, Liam Gallagher have also made their first fleeting steps into the cinematic landscape, too. As Supersonic, which documents Oasis' meteoric rise in the mid 1990s, is also due to be released at the end of this month. You can also have a gander at the trailer for Supersonic by taking a look below:
Unfortunately, Supersonic is only being released for one night, and it will be shown in US cinemas on Wednesday October 26. T2 will have a wider release when it arrives on February 3, 2017.
Your Daily Blend of Entertainment News
Thank you for signing up to CinemaBlend. You will receive a verification email shortly.
There was a problem. Please refresh the page and try again.