Jack Reacher 3: The Lee Child Books Tom Cruise Should Look At Next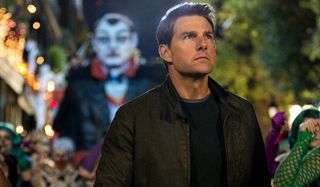 Tom Cruise's second attempt at bringing Lee Child's Jack Reacher hero to the big screen, Jack Reacher: Never Go Back, opened to a modest $23 million at the domestic box, and added $31 million globally to reach the $54 million mark after only a few days in release. Seeing as how the budget was kept around $60 million, the studio's foray into the bloody knuckled world of Jack Reacher likely will end up being a financial win -- even though critics were less enamored with Never Go Back than they were with the original Jack Reacher (40% on Rotten Tomatoes for the sequel, versus 62% for the original).
So, has a full-blooded franchise been born? It's entirely possible that Tom Cruise can continue to break bones (and cash paychecks) as the wandering Reacher. And seeing as how Lee Child has 20 novels and counting in the series, it'd be easy for Paramount to pluck another Reacher novel off the local library shelf -- they still have those, right? -- and had the book to a fledgling screenwriter in hopes of striking gold. Several of our readers expressed dismay that Cruise and director Ed Zwick went with Never Go Back as the source material for a sequel, what with much better Reacher books at their disposal. Here are a few stories that I think would be perfect for Jack Reacher 3:
61 Hours
The strongest and most captivating Jack Reacher stories are the ones where our favorite Right-Guy-In-The-Wrong-Place hero is racing a figurative clock that Lee Child has established in his plot, and 61 Hours has that gimmick built right into the title. After the bus he's riding on veers off the road in a snowstorm, Reacher finds himself aiding South Dakota law enforcement in protecting a woman set to testify against the head of a drug-running biker gang. They need to keep this poor, innocent woman alive in blizzard conditions for -- you guessed it -- 61 hours, as forces both foreign and domestic move on the town with the intention of making sure she never gets to testify. The novel ends with an explosive climax, and as readers of the Reacher series will know, if you are going to adapt 61 Hours, you damn sure better follow it with...
Worth Dying For
No spoilers, but the explosive ending of 61 Hours leads right into Worth Dying For, and back-to-back adaptations of this two-book story arc would be FANTASTIC material for two Reacher movies (which Tom Cruise would film back to back, if he wanted to save on time). Worth Dying For remains my favorite Reacher story for the way it tweaks all of the clichés that had been established by author Lee Child about his man-mountain investigator. The normally invulnerable warrior is badly injured as a result of 61 Hours, yet still struggles through a new, single-location mystery, this one involving a very mean Midwestern crime family keeping an innocent town under their collective thumb. The reason for the intimidation is shocking and dark, but would make for an intense motivator for an R-rated Reacher drama that would really push Cruise to new levels. They could do Worth Dying For alone, but leading into it with a proper 61 Hours adaptation would be even better.
Bad Luck and Trouble
The first Jack Reacher movie sold him as a lone wolf. Never Go Back paired him with Major Susan Turner (Cobie Smulders) -- even if Ed Zwick made sure to include an argumentative scene where Reacher tried to convince her to let him go it alone. For the next step, why not have Jack Reacher 3 adapt the 2007 novel Bad Luck and Trouble, where Reacher (Tom Cruise) must reunite with Frances Neagley and their former Army investigative colleagues when a mysterious antagonist begins hunting them down one by one. Casting really carried the original Jack Reacher, and an adaption of the taut and brutal Bad Luck would create some colorful badasses tailor made for Cruise and some fellow A-listers to play off of, showing a new team-player side to Reacher that we haven't seen on the big screen yet. Even if Cruise only has one more Reacher movie in his -- he is 54, after all -- this would be a way to expand on the types of stories they've already told in this series, and end with a bang.
The Killing Floor
Who's to say that Jack Reacher 3 needs Tom Cruise in the role? I don't necessarily agree with them, but some fans have been adamant that Cruise was the wrong person to play Reacher on screen from the get go. TC has his Mission: Impossible franchise, and to be fair, he couldn't open Never Go Back ahead of a movie called Boo! A Madea Halloween. That's a real movie that played in real theaters. So this is an option for Jack Reacher 3 -- go back to the beginning, and reboot with a younger (and more accurate) actor. The Killing Floor was the first Reacher novel, and it has the wanderer arrested for a crime he didn't commit, leading to a vicious investigation against a powerful villain. But a third Reacher movie could provide a bit of a restart for the cinematic universe, thereby opening the door to even more Reacher movies over the years. An option? Sure, but only if Cruise agrees to pass the torch, because he has earned that right, if nothing else.
Your Daily Blend of Entertainment News
Sean O'Connell is a journalist and CinemaBlend's Managing Editor. He's frequently found on Twitter at @Sean_OConnell. ReelBlend cohost. A movie junkie who's Infatuated with comic-book films. Helped get the Snyder Cut released, then wrote a book about it.