Christian Slater Got Real Competitive With James Franco For Their Gay Sex Scenes In New Movie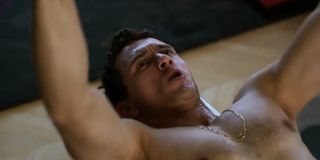 James Franco is arguably the hardest working man in Hollywood. Not only is he regularly appearing as an actor in other people's work but he's writing, directing, and producing seven projects that are in various stages of production, too. So when Christian Slater was cast to star opposite James Franco in the crime thriller King Cobra, which revolves around the rise and fall of gay porn star Brent Corrigan, he knew that he'd have his work cut out matching his fellow actor. But this only brought out the competitive side of Slater, especially when it came to the more intimate scenes in the movie.
According to Page Six, Christian Slater made this admission at a Q&A before the recent premiere of King Cobra, revealing that he decided to improvise while filming some of the gay sex scenes so that he could have his moment, and to stop James Franco from usurping him. Christian Slater recalled:
Justin Kelly, who wrote and directed King Cobra, which is based on Andrew E. Stoner and Peter A. Conway's novel Cobra Killer, found the time to elaborate on Christian Slater's improvisation during some of the film's more intimate scenes. During one particular moment between Slater and Garrett Clayton, who plays gay porn star Brent Corrigan in King Cobra, Kelly explained that Slater "pushes him up against the closet door" in a scene that wasn't written or planned. In King Cobra Slater can even be seen wearing a facial to prepare for his scene. Not that kind of facial you sexual minded reprobate. This kind:
King Cobra sees Christian Slater star as Stephen, a gay porn producer who discovers the young stud Brent Corrigan (Garrett Clayton), and looks to turn him into a bona-fide gay porn star. However aspiring producers Joe (James Franco) and Harlow (Keegan Allen) try to buy Brent's contract so that they can make their own movies with the actor, which is obviously something that Stephen is against. This, as you probably guessed, leads to some issues between the group.
King Cobra is based on real-life events that if you research will give away some of the pivotal points of the film. Instead, just take a look at its trailer below, which suggests that it's a merging of Boogie Nights and _Spring Breakers. _
If that looks like your kind of jam then you're in luck, because King Cobra is now in cinemas.
Your Daily Blend of Entertainment News