The Flash Losing Another Director Points To A Real Problem In The DCEU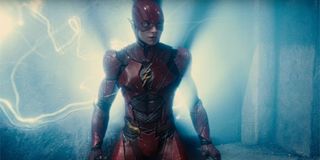 It's certainly news whenever it happens on a high-profile project, but a movie losing its director isn't exactly a rare occurrence in Hollywood. Clashes between creativity and business cause conflict, and sometimes it's all too much for a filmmaker to work through. When this happens early enough in the production process, it's not too big a deal, as a new person and with their own vision can be brought on-board to right the ship and keep things sailing smoothly.
Unfortunately, these aren't the kind of conflicts we've been watching occur behind the scenes of the DC Extended Universe. With both 2017's Wonder Woman and 2018's The Flash, Warner Bros. has found itself in a situation where they have been forced to look for a new director following months of pre-production work. For now there are only two examples, but it's most definitely not a great start for a franchise that producer Deborah Snyder has previously described as being "filmmaker-driven."
Rick Famuyiwa's departure from The Flash is the more recent example, and the original trade report about the split highlights the biggest problem with the situation (on beyond losing Famuyiwa, whose previous film, Dope, demonstrated incredible potential). While the project was still in fine shape after it lost Seth Grahame-Smith from the director's chair earlier this year, Variety's piece on the situation draws comparisons to Patty Jenkins' entry into Wonder Woman and notes that "With pre-production so far along, change[sic] course now will be a tough hurdle to overcome, while still meeting deadlines." Basically, whoever winds up taking Famuyiwa's place likely won't have a blank slate and the opportunity to tell the exact Flash story he or she wants to tell; but instead will probably be molding blueprints created by the guy who had the job before them. A degree of this admittedly comes with the territory when it comes to franchise filmmaking, but it's the key difference between James Gunn being given the keys to Guardians of the Galaxy from Day One, and Peyton Reed taking over Ant-Man from Edgar Wright (both are good movies, but the former is inarguably the much better put-together film).
While it may be Warner Bros. ultimate goal to have the DC Extended Universe be a more filmmaker-driven franchise, the evidence we've seen so far suggests that at this stage there is an overwhelming amount of studio interference. This is demonstrated not only in the creative differences that drove Michelle MacLaren and Rick Famuyiwa away from Wonder Woman and Flash, respectively, but even in the fact that extended cuts exist of both Batman v Superman: Dawn of Justice and Suicide Squad - suggesting there was some tussling in the editing room on both productions. When you toss in the rumors that James Wan hasn't been super happy with the way things are running behind-the-scenes of Aquaman, and the fact that Zack Snyder's Justice League got a last minute tonal change in response to franchise criticisms, there is a picture painted of the next two years of DCEU movies potentially lacking in specific vision and direction -- and that doesn't exactly get us super pumped up.
Given the way things are going in the DC Extended Universe -- with Man of Steel not exactly proving to be Iron Man, and the poor critical reaction to Batman v Superman: Dawn of Justice and Suicide Squad hurting the brand -- it's understandable why the studio would want to start taking a more hands-on approach with the films and help guide the wheel, particularly with so many major release dates already carved out. The problem is that this is clearly interfering with both the ideas and expectations of the filmmakers that they're hiring, and these issues have a tendency and clear history of affecting what ends up being the finished product. It is, of course, entirely possible that everything will find its way to work out, and we're definitely hoping that the next few years are packed with great new comic book movies -- but the recent news definitely stokes our concerns about the franchise.
Your Daily Blend of Entertainment News
Assistant Managing Editor
NJ native who calls LA home and lives in a Dreamatorium. A decade-plus CinemaBlend veteran who is endlessly enthusiastic about the career he's dreamt of since seventh grade.