Someone Gave The Rock A Badass Weapon On The Jumanji Set And He Looks Fantastic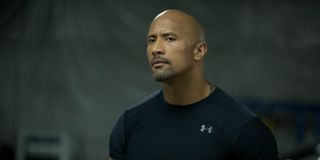 It's hard to think of a modern action star that is more certifiably badass than The Rock. Over the course of the last 15 years, Dwayne Johnson has proven time and time again that he performs best in movies that allow him to crack big smiles and wield even bigger guns. Now it seems that the upcoming Jumanji sequel will allow him to do both of those things with gusto. A new behind-the-scenes video from Jumanji has just hit the web, and it shows Johnson looking utterly cool with an awesome flamethrower. Check it out!
If you didn't already envy The Rock's life, then that Instagram post should pretty much do the trick. We can't glean too much about Jumanji's plot from this behind-the-scenes video, but it's clear that The Rock's character will eventually get his hands on some pretty badass firepower during the events of the film. According to the description of the video, the flamethrower that The Rock wields in this clip will be a central part of a major Jumanji action sequence. His character will wield the flame-based weapon with one hand, while driving a motorcycle with another. We really should not be surprised; at this point we expect nothing less from The Rock.
Within the context of the new Jumanji's continuity, this badass weaponry makes quite a bit of sense. The game will take place almost entirely in the confines of Jumanji, which has been reimagined as a video game environment in the update. The Rock's character is actually an avatar for a young school-aged character, so it seems incredibly likely that the person playing the game will have a knack for finding power-ups and getting through tough video game levels unharmed.
The rest of the children are likely going to need Dwayne Johnson's character to help them get through the game alive. With the new Jumanji reimagined as far more of an ensemble film (featuring Johnson, Kevin Hart, Karen Gillan, and Jack Black) each and every member of the central quartet appears to have specific skills that will apply to various situations. The Rock's specific skill will be the ability to kick ass and take names. Naturally.
It's also definitely worth noting how much effort the Jumanji update is putting into differentiating itself from its predecessor. While we're certain that there will be a few awesome homages here and there, the original Jumanji ever featured anything close to this level of visceral action. This goes a long way towards instilling confidence that the 2017 version of Jumanji will stand on its own merit without stepping on the toes of what came before it.
Although Jumanji is still a long way off, every little detail that we receive only bolsters our excitement for the film. CinemaBlend will bring you more details related to the upcoming Jumanji reboot as more information becomes available to us. The long awaited update will hit theaters this summer on July 28, 2017.
Originally from Connecticut, Conner grew up in San Diego and graduated from Chapman University in 2014. He now lives in Los Angeles working in and around the entertainment industry and can mostly be found binging horror movies and chugging coffee.
Your Daily Blend of Entertainment News
Thank you for signing up to CinemaBlend. You will receive a verification email shortly.
There was a problem. Please refresh the page and try again.