Why Mel Gibson Has Traded Gun-Toting Action Thrillers For A Pacifist's Story In Hacksaw Ridge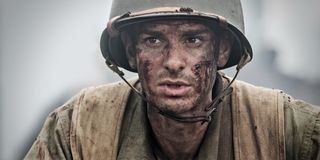 Action heroes and on-screen violence tend to go hand in hand, and few action stars have developed the sort of violent iconography established by Mel Gibson. That's what makes his decision to tell the story of a pacifist like Desmond Doss in Hacksaw Ridge so undeniably fascinating. I recently had the chance to ask Gibson about what drew him to the story of a conscientious objector, and he asserted that Hacksaw represents the next logical step for him as a storyteller. He explained:
During the press junket for Hacksaw Ridge, I had the opportunity to ask Mel Gibson how he reconciled the story of a man like Desmond Doss with his previous roles as gun-toting killers. He clearly saw the question coming, because he was immediately able to identify it as a moment of "evolution" for himself as a filmmaker and a storyteller. In the eyes of the action icon, Desmond Doss' refusal to kill and fight alongside his brothers in arms didn't make him any less of a hero, in fact, it made him more of a hero due to the fact that his sole focus was the preservation of those around him.
The overarching theme of Hacksaw Ridge appears to be the idea of how a pacifist deals with multiple forms of conflict. Desmond Doss enters the combat of the Pacific theater in WWII unwilling fight or kill (or even touch a rifle), and that outward conflict spurs an internal conflict regarding whether or not he can stay true to his own beliefs in the midst of such carnage. It's a genuinely compelling narrative, and it defies typically traditional notions of heroism in modern films.
Mel Gibson seems to have a fairly clear understanding that Desmond Doss represents a stark contrast to the roles that made him a household name in the earlier days of his career. Even Martin Riggs (which is arguably his most famous role of all time) defined himself in 1987's Lethal Weapon by firmly stating that killing was the only thing he ever had a talent for. Contextualized against the rest of Gibson's filmography, Hacksaw Ridge really represents a departure for the filmmaker, and a new direction for him as a storyteller.
Watch a bit of our conversation with Mel Gibson and Andrew Garfield below:
Overall it seems that the upcoming WWII epic marks a notable new avenue for the 60-year-old director, and it's a distinction that's certainly not lost on him. Hacksaw Ridge will hit theaters this weekend on November 4; be sure to check it out!
Your Daily Blend of Entertainment News
Originally from Connecticut, Conner grew up in San Diego and graduated from Chapman University in 2014. He now lives in Los Angeles working in and around the entertainment industry and can mostly be found binging horror movies and chugging coffee.