How Andrew Garfield Feels About One Of Spider-Man's Biggest Mysteries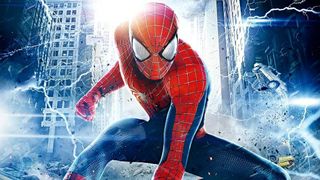 There were a number of unresolved issues and lingering mysteries swirling around the Amazing Spider-Man series when Sony pulled the rug out from underneath Andrew Garfield to hand the rights over to Marvel Studios (in an unprecedented deal). Garfield, so far, has been taking the high road by saying the end of his Spidey career has opened the door to collaborations with Mel Gibson (Hacksaw Ridge) and Martin Scorsese (Silence), but that doesn't mean fans don't wonder what could have been with the larger story being told in the Marc Webb Spider-Man films.
For example, those of you who watched Andrew Garfield's two Amazing Spider-Man films know that there was a shadowy figure seemingly pulling the strings behind the scenes, working against Peter Parker to accomplish... something. Who was that guy? And what was his ultimate goal? When we sat down across from Garfield as he promoted Hacksaw Ridge, we asked him, and his answer was a total shock! He said:
This shadowy figure, coincidentally, was played by character actor Michael Massee, who died on October 20. IMDB credits him as Gustav Fiers aka The Gentleman, though that name means nothing to Spider-Man fans (and apparently less to Andrew Garfield). We first saw Fiers in the jail cell talking to Dr. Curt Connors (Rhys Ifans) at the end of The Amazing Spider-Man (he's the one on the right).
Here's the full scene below, in case you want to re-experience the mysteriousness.
And he resurfaced at the end of The Amazing Spider-Man 2, talking with Dane DeHaan's Harry Osborn in a scene that fans believed would set up a Sinister Six film.
Alas, none of this came to pass. Fans didn't care for the world building on Marc Webb's Spider-Man films, with OsCorp being the driving force behind Peter Parker's suffering. Maybe it's because, as Andrew Garfield admits, no one driving this ship had any clue WHAT the bigger mystery was. How could fans get excited if the storytellers themselves had no idea in which direction they actually were heading? Listen to Garfield's comments on the man in shadows, as well as his praise of Tom Holland. I also love Mel Gibson's suggestion on who the man might have been:
Hacksaw Ridge, meanwhile, opens in theaters on November 4. Look for more coverage on Mel Gibson's latest military drama on CinemaBlend in the coming days.
Your Daily Blend of Entertainment News