The Green Hornet Is Getting Another Remake, Here's Who Is Involved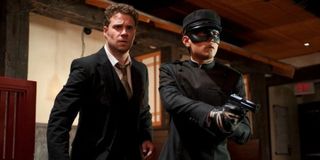 Paramount Pictures picked up the rights and are working on rebooting The Green Hornet, which has been a pop culture mainstay since the character debuted on the radio back in the 1930s. Since then he's appeared in a myriad of comics, his very own television series, and most recently came to the big screen in the Seth Rogen-led 2011 origin story, which despite being enjoyable failed to find a large enough audience to warrant a sequel. Paramount are confident that won't be the case this time around, and they've brought Gavin O'Connor on board to direct. Together they're planning on reimagining the character of Britt Reid, and they're hoping that the impending reboot will launch its own franchise.
Deadline was the first to reveal that Paramount Pictures and Chernin Entertainment have purchased the rights to Green Hornet after Sony Pictures allowed them to expire. They also revealed that at the behest of Gavin O'Connor, Britt Reid is going to get a brand new image that's described as "edgy." In fact, O'Connor described his incarnation of The Green Hornet as "Batman upside down meets Bourne inside out by the way of Chris Kyle [American Sniper]." I'm not really sure what that means but I'm definitely intrigued.
As well as directing, Gavin O'Conner will produce the film, and he's going to be working in very close cahoots with screenwriter Sean O'Keefe. O'Connor most recently found success with the Ben Affleck led The Accountant, while he previously oversaw Jane Got A Gun and Warrior, too.
Gavin O'Connor has been relentless in his pursuit of making a new Green Hornet film. He admitted to Deadline that after he realized the rights were available he tracked them down with producer Peter Chernin and set up the film with Paramount. O'Connor has explained that they plan on "modernizing" The Green Hornet for an entire new generation, and this will include wiping "away the camp and kitsch of the previous iteration."
It also sounds as though The Green Hornet will be partly inspired by the characters in the Marvel and DC Comics universes, as Gavin O'Connor explained that his version of Britt Reid is undergoing a crisis of identity and is "at war with himself". After describing The Green Hornet as a "film about self-discovery," O'Connor added that his Britt Reid has lost his faith in service, institutions, and the system.
By the sound of things we can expect to see Britt Reid struggling to come to terms with the death of his father, while Gavin O'Connor also suggested that his time at war in the military, where he was "cross-trained in intelligence work and kinetic operations" will be prominent, too.
It's interesting just how little mention Gavin O'Connor made of Kato in his opening spiel to announce himself as the new man behind The Green Hornet. I've always seen The Green Hornet as very much a dual-partnership between Britt Reid, a wealthy young publisher who dons the mask to become the vigilante after the death of his father, and his loyal driver and bodyguard Kato, a martial arts expert who is also masked and drives their technologically advanced car Black Beauty.
Maybe Gavin O'Connor's origin story will just revolve around Britt Reid this time around with Kato becoming more involved later in the film or even in a sequel. Of course it's still way too early to speculate. But Gavin O'Connor's passion and desire to do justice to the character is palpable, and he sounds like the perfect director to bring The Green Hornet into the future.
Your Daily Blend of Entertainment News