The Edge Of Seventeen Is The Best Movie In Theaters No One's Seeing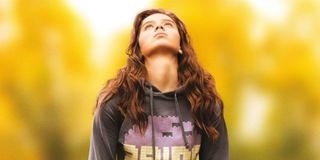 Life moves pretty fast, and sometimes it's hard to see all of the movies in theaters at any given time. That idea has become even more noticeable in recent weeks, as major blockbusters such as Doctor Strange and Fantastic Beasts have gone head to head with awesome Oscar contenders like Arrival and Hacksaw Ridge. That being said, in the rush to see all of these enormous event movies, it's important not to miss the gems that also deserve your attention. That's exactly what seems to be happening with Kelly Fremon Craig's amazing coming-of-age dramedy, The Edge of Seventeen, and I am here to implore you to check it out in theaters while you still can.
Despite the fact that the last few weeks have seen strong box office performances from a number of different films, The Edge of Seventeen's opening weekend could only politely be described as modest. Against a $9 million budget, the indie comedy garnered a paltry $4.8 million three-day gross. Let me be clear, this is NOT due to lack of quality. In my own review, I personally gave The Edge of Seventeen a glowing 4/5 star review, and its incredible 95% "Fresh" rating on Rotten Tomatoes has definitely corroborated my opinion. I'm not writing this to give you a rundown of everything that The Edge of Seventeen does correctly (that's what my review is for), but I am here to plead the case that this comedy deserves far more mainstream recognition than it has received.
The problem here seems to lie in the sheer scope of the other options currently available. Franchise tentpoles like Fantastic Beasts and Doctor Strange are drowning out The Edge of Seventeen's noise. Is there anything wrong with patronizing your favorite blockbuster series? Absolutely not. That being said, if you want something new, different, and genuinely exciting, you should definitely consider spending this weekend's $12 movie ticket budget on The Edge of Seventeen instead. And with a holiday weekend coming up, do you want to fight the crowds at Moana or Fantastic Beasts, or support an under-seen winner?
The Edge of Seventeen's importance is bolstered by the fact that it's a genuinely amazing comedy in a year when such a sight has become increasingly rare. Kelly Fremon Craig's John Hughes-esque tale hits all of the necessary beats to become an instant classic. It's oozing with charm while maintaining a strong sheen of authenticity; it's R-rated without ever feeling overly crass; and despite its deep emotional intelligence, it never loses sight of its offbeat sensibilities. Few films to hit theaters in 2016 (from any genre) have managed to strike such a delightful balance.
Take a look at the film's Red Band trailer below to see all of those qualities on display:
It's no secret that success leads to trends in the film industry; I feel confident that, if The Edge of Seventeen gets the attention it deserves at the box office, we may potentially see an uptick in the number of smart, sharp, well-written comedies that get released in the near future. That's something worth getting excited about.
Forget Ghostbusters. Forget Bad Moms. Forget Central Intelligence. The Edge of Seventeen is arguably the best comedy to hit theaters this year, and if it isn't, it at the very least is tied with the likes of The Nice Guys, and Hail, Caesar! This movie is a 1980s John Hughes classic that somehow managed to teleport to the modern era, and it overwhelmingly deserves your attention while it's still in theaters. Do yourself a favor; see this movie.
Your Daily Blend of Entertainment News
Originally from Connecticut, Conner grew up in San Diego and graduated from Chapman University in 2014. He now lives in Los Angeles working in and around the entertainment industry and can mostly be found binging horror movies and chugging coffee.