Weekend Box Office: Moana Cruises To Number One, Rules Don't Apply Serves Up Holiday Turkey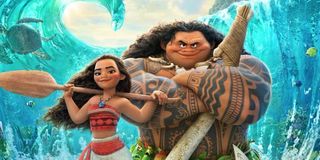 It was a hit and miss holiday weekend at the box office, with really only one movie having much of anything to be thankful for.
Disney's third animated release this year (fourth if you count Jungle Book), Moana, surfed its way to a number one Thanksgiving weekend debut with $55 million over the regular weekend ($81 million over the full holiday weekend). That made for the lowest Disney animated debut of the year, but still ahead of most other animated features including Trolls, Kung Fu Panda 3 and Storks.
On its fourth weekend out, Doctor Strange finally pushed past the $200 million mark. Now the ninth highest grossing movie of the year to date, it's not likely to catch up to eighth place Suicide Squad.
Robert Zemeckis' newest offering, Allied, headlined Brad Pitt and Marion Cotillard, but big names weren't enough to deliver a promising opening weekend. With just $13 million ($18 million over the holiday) and only $27 million now in world-wide sales, the $85 million World War II thriller looks to end in the red.
Bad Santa 2 debuted in eighth place with just over $6 million, roughly half what its predecessor banked when it opened on Thanksgiving 2003.
The big turkey this weekend was Warren Beatty's dramedy Rules Don't Apply. Despite a cast list that would make any movie proud, the $25 million movie banked just $1.5 million over the weekend ($2.1 million total for the holiday), not even enough to open in the top ten.
For the full weekend top ten, check out the chart below:
Your Daily Blend of Entertainment News
Thank you for signing up to CinemaBlend. You will receive a verification email shortly.
There was a problem. Please refresh the page and try again.