5 DC Characters John Cleese Could Play In Justice League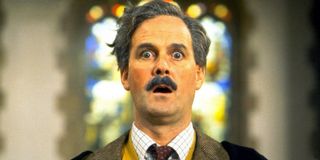 The DCEU has never had any trouble attracting talented performers. From Ben Affleck and Amy Adams to Will Smith and Viola Davis, the entire DC Extended Universe has become an insanely star-studded affair. That being said, the DCEU has felt somewhat lacking with regards to genuine, comedic performers. However, that may soon be poised to change, as rumors have started to swirl that legendary British comedian, John Cleese, may have a role in Zack Snyder's upcoming Justice League film.
Although nothing has been confirmed yet, we have taken it upon ourselves to compile a list of DC characters that John Cleese could realistically play. Check out our entries and let us know the character you would like to see him portray in the comments section below! Without further ado, let's get started with one of the most distinguished, green-glad space cops in the universe...
Tomar-Re
Perhaps we have been looking at the rumored Green Lantern cameo in Justice League from the wrong angle. Instead of a human member of the Green Lantern Corps, it's entirely plausible that we will see someone such as the birdlike Tomar-Re instead. A legendary member of the intergalactic police force, Tomar-Re is one of the Green Lanterns primarily responsible for training human members like Hal Jordan and John Stewart, and the biggest failure of his career is his inability to prevent the destruction of a planet in Sector 2813 known as Krypton. Sound familiar? Tomar-Re is definitely an obscure character, but he's definitely within John Cleese's skillset as an actor. The role would also likely be primarily CGI, which means that Cleese would only have to provide his voice to the character.
Zatara
If DC wants to use John Cleese to lay more groundwork for the magical side of the DCEU, then there are few characters better for him to play than Giovanni Zatara. A theatrical stage magician with the ability to summon actual magic, Zatara conjures his mystical spells by uttering their pronunciation backwards. Zatara's debut in the DCEU could lay the groundwork for him to pass the torch to his daughter, Zatanna, so that she may subsequently take on more a central role in Doug Liman's upcoming Justice League Dark movie. The DCEU has already placed quite a bit of focus on the importance of fatherly relationships, so the Zatara/Zatanna dynamic could easily be next on the agenda.
G. Gordon Godfrey
Zack Snyder already faithfully adapted The Dark Knight Returns' use of news media in Batman v Superman, so it wouldn't be a huge stretch to see him bring in fictional, anti-Justice League pundit, G. Gordon Godfrey, during the events of Justice League. A British newscaster with a quick wit, a biting tongue, and some seriously xenophobic beliefs, Godfrey is equal parts comic relief and villain, as he is often depicted as a buffoonish character who has been known to maintain loyalty to Darkseid and the forces of Apokolips. Doesn't that sound like a perfect John Cleese character? From a narrative standpoint, he would even be a perfect character for Ben Affleck's Batman to square off against while the more powerful League members take on Steppenwolf.
Highfather
Given the fact that Justice League will seemingly go all in on the threat posed by Steppenwolf and the forces of Apokolips, it definitely seems within the realm of possibility for John Cleese to take on the role of a character like Highfather. As chief of the "New Gods" and ruler of the planet known as New Genesis (basically the heaven to Apokolips' hell), Highfather is an immortal being that maintains a longstanding and bitter rivalry with Darkseid and Steppenwolf. Movies set within the DCEU already feature some of the biggest battles in the entire comic book genre, but juxtaposing the JLA with a conflict between Steppenwolf and Highfather would go a long way towards establishing the grand stakes of Justice League.
A Medieval Knight
Of course, at the end of the day it remains entirely plausible that John Cleese will play one of the medieval knights who bury a Mother Box in a flashback sequence -- something explicitly shown during the first official Justice League trailer. While many people have speculated that Cleese could possibly take on the role of an iconic DC character, the fact remains that he may simply be a recognizable actor playing a less recognizable role. Besides, what better actor to play a medieval knight than the guy who became famous for his work in Monty Python and the Holy Grail?
What character would you like to see John Cleese play in the DCEU? Let us know what you think in the comments section below! Justice League will hit theaters on November 17, 2017.
Originally from Connecticut, Conner grew up in San Diego and graduated from Chapman University in 2014. He now lives in Los Angeles working in and around the entertainment industry and can mostly be found binging horror movies and chugging coffee.
Your Daily Blend of Entertainment News
Thank you for signing up to CinemaBlend. You will receive a verification email shortly.
There was a problem. Please refresh the page and try again.