5 Big Things To Know About Steppenwolf, The Justice League's Possible Villain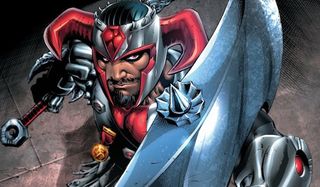 Batman v Superman: Dawn of Justice featured most of the Justice Leaguers, but it won't be until Justice League: Part One that the heroes finally band together to protect the Earth. Since the movie was announced, there have been various rumors about who the villain will be, with the most persistent being that it will be Darkseid, especially following the hints towards him in the second DCEU entry. Well, if a new report ends up being true, it won't be the Lord of Apokolips as the main antagonist, but his minion, Steppenwolf.
Introduced in 1972, Steppenwolf has been a recurring villain in the DC universe, and while the name holds more importance to the general population as a rock band than an alien warrior, rest assured, he's a powerhouse. Many believe that he was the one who appeared in that Batman v Superman: Dawn of Justice deleted scene (more on that later), so him antagonizing the Justice League: Part One heroes would make sense. While it may be a while until Steppenwolf's inclusion is confirmed, here are the things you need to know about him in case he does end up being the main villain.
He's Darkseid's Uncle
If you're reading this list, chances are you're familiar with Darkseid and how he's one of the DC universe's greatest villains. However, what hasn't been made clear in the movies yet is that he is part of the New Gods mythology created by Jack Kirby. One one side, we have Highfather and his followers on New Genesis as the "good guys" (though they've made their own questionable decisions), and the bad guys are Darkseid and his followers on Apokolips. Steppenwolf rests on the latter side, with Darksied being his uncle. Steppenwolf's sister was Hegra, and after her son murdered her (mainly for killing the woman he loved) and took her spot on the Apokliptan throne, he made uncle Steppenwolf the leader of his military and a member of his Elite. As long as Steppenwolf remembers who's boss, he gets to retain his position of power.
He's Mighty In Both Powers And Military Strength
Just like all the other major New Gods characters, Steppenwolf is not only immortal, but also has various special abilities, like super strength, enhanced speed, enhanced durability, etc. Those alone make him dangerous, but Steppenwolf also possesses a keen strategic mind, making him a terror in the battlefield. Like any officer, he leads his soldiers into battle, but he also isn't afraid to get his hands dirty using his natural abilities or weapons like his cable snare or trademark electro-axe. Steppenwolf also commands a cavalry of monstrous dogs that can be ridden by his soldiers or just sicced into the battlefield to cause mass carnage. In other words, unless you're gifted with your own mighty powers, like Superman, don't even think of trying to fight Steppenwolf.
He Survived Doomsday's Wrath
Moviegoers were introduced to Doomsday in Batman v Superman: Dawn of Justice, and in the comics, Steppenwolf has history with that monstrosity. Hundreds of thousands of years ago, Steppenwolf accompanied Darkseid, Master Mayhem and others to a planet that had natural resources they planned to take control of from the population. The plan was foiled when showed up and started wreaking havoc, including killing Master Mayhem. Darkseid wanted to beat up Doomsday himself, but Steppenwolf wisely suggested that they escape so that they wouldn't get in the way of that beast destroying the entire planet. Since Doomsday was created by Lex Luthor on Earth in the DCEU rather than by an alien scientist elsewhere in the universe, the exact circumstances of their first meeting from the comics can't be replicated. Still, if Doomsday is somehow revived at some point, how amazing would it be to see the two of them clash?
He's Troubled More Than One Earth
Steppenwolf and his other allies from Apokolips have always posed a threat to the entire universe, but in the New 52, they preyed on other Earths outside of the main continuity. In Steppenwolf's case, after taking part in Geoff Johns' opening Justice League arc, Steppenwolf was next seen in the Earth 2 series. He was the ones who led Darkseid's forces against that Earth, but after the heroes repelled his invasion, he was stranded there for five years. After staying in hiding during that interim, he had gathered enough resources to take Earth for himself, and he even recruited Earth-2 Wonder Woman's daughter, Fury, to his cause. Unfortunately, his aspirations were cut short when he was killed by a Bizarro disguised as a rogue Superman. He's since been brought back to life in Justice League's "Darkseid War" storyline, but we wouldn't be surprised if in DC's Rebirth, he pays a visit to Earth-2 again or one of the other worlds in the multiverse. Who knows, maybe the DCEU will pave a way for other alternate realities to be interacted with as well.
Why He's A Good Choice For Justice League: Part One
Steppenwolf already benefits from being established in the DCEU…sort of. As mentioned earlier, Warner Bros released a deleted Batman v Superman: Dawn of Justice scene shortly after the movie was released of Lex Luthor communicating with an alien being via the technology on the Kryptonian ship. When the SWAT team arrived to arrest Luthor, that thing screeched and cut off contact. The clip never revealed who this alien was, but one of the strongest theories was that it was Steppenwolf, going off its physical appearances and the three cubes it held, which were likely Mother Boxes. If this villain report ends up being true, then that was indeed Steppenwolf, and it was him that told Luthor about Darkseid and what lay beyond Earth.
Some may be disappointed that Darkseid isn't the first villain the superhero team will battle together in Justice League: Part One, but using Steppenwolf first is actually quite fitting. He may not be as famous, but like we talked about in the previous section, his powers and military mind make him a formidable threat, and he can lead his own invasion force, filled with Parademons and other horrors from Apokolips, to take Earth for his master. The heroes will defeat him, and then you can have Darkseid show up in Justice League: Part Two to complete the job his lackey failed to accomplish.
Connoisseur of Marvel, DC, Star Wars, John Wick, MonsterVerse and Doctor Who lore. He's aware he looks like Harry Potter and Clark Kent.
Your Daily Blend of Entertainment News
Thank you for signing up to CinemaBlend. You will receive a verification email shortly.
There was a problem. Please refresh the page and try again.