Fantastic Beasts Just Passed A Major Box Office Milestone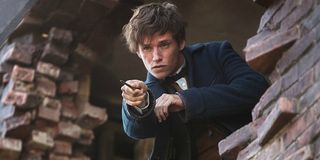 There was a slight bit of trepidation from Warner Bros. regarding the release of Fantastic Beasts And Where To Find Them. Sure the studio was always confident that it would return a healthy enough box office amount, while they also acknowledged that it probably wouldn't quite match the Harry Potter films that it was following. But the fact that it has now officially strolled past the $500 million mark at the worldwide box office, and is currently resting on $505 million, means that it is a job well done for the franchise and they can already start looking ahead to the sequels.
Deadline has confirmed that Fantastic Beasts And Where To Find Them, which marked the screenwriting debut of J.K. Rowling after she previously wrote the Harry Potter novels, has already sauntered past the half billion dollar amount. Domestically, Fantastic Beasts And Where To Find Them is currently at the $161 million mark, but it was boosted by strong opening week performances in Japan and China, where it grossed $15.6 million and $41 million respectively.
Warner Bros. is feeling exactly as you'd expect them to feel after pocketing over $500 million: rather happy with themselves. Warner Bros.' Sue Kroll told Deadline that everyone at the studio is absolutely "thrilled by the success of this new adventure," declaring that its triumph marks the start of a brand new franchise for them.
Kroll believes that the success of Fantastic Beasts And Where To Find Them comes down to JK Rowling's "immersive story with timeless themes," which, thanks to the help of director David Yates and the film's cast that included Eddie Redymayne, Katherine Waterston, Dan Fogler and Alice Sudol, managed to resonate with "both critics and audiences in every corner of the world." You can check out my personal thoughts on Fantastic Beasts And Where To Find Them by clicking here.
But Warner Bros. better make some room in the vault for even more income courtesy of Fantastic Beasts And Where To Find Them. That's because now that it has been fully released around every territory in the world, box office analysts have been using their calculators and counting on their fingers and toes trying to figure out the total that it will finally land on, and they've decided it will gross somewhere between $750 million and $775 million. Those of you who are still undecided about whether or not you want to see the fantasy adventure can check out the trailer for Fantastic Beasts And Where To Find Them below.
If Fantastic Beasts And Where To Find Them does clock out with $775 million, that will still mean that its final gross is least of any of the Harry Potter films. However, with the revelation that Albus Dumbledore will be added to the ensemble, and other younger versions of characters from Harry Potter rumored to be joining the franchise, too, this is solid foundation upon which Fantastic Beasts And Where To Find Them's sequel should easily be able to build.
Your Daily Blend of Entertainment News