Arrival Deserved To Do A Hell Of A Lot Better At The Golden Globes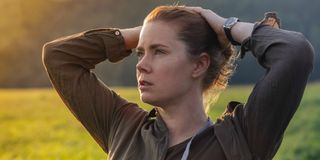 Warning: Some spoilers for Arrival are in play. If you haven't seen this film yet, bookmark this page and come back to vent along with us.
For their 2017 round of honors, the Hollywood Foreign Press Association has nominated a decent cross section of dramas, with the field being dominated by grounded human dramas. And yet, in the field of dramatic films this year, the majority of HFPA voters didn't think that Denis Villeneuve's Arrival was worthy of a nod. If there's a Heptapod word for "bullshit," this would be the time to use that word in impressive fashion.
In the past, the Hollywood Foreign Press Association has been pretty good with recognizing sci-fi that's popcorn fare, but still smarter than most films at the box office. Since 2010, films like Avatar, Inception, Gravity, and most recently The Martian have all gone on to receive nominations for Best Picture. Out of those four films, half of them went on to win top honors, with Avatar winning for Best Drama and The Martian winning for Best Musical / Comedy. Things only get more puzzling when you look into Arrival's individual track record, which is pretty impressive for a film of its ilk.
It's not like Arrival is some low-key indie that nobody watched. The film stands at a 93% on Rotten Tomatoes, with tons of critical acclaim to spare. Not to mention, the film has made almost $130 million on a $47 mil. budget, so it's not like the public at large hasn't seen or supported the film. Even at Sunday night's Critics' Choice Awards, Arrival was better represented, with four nominations and one win for the best Sci-Fi / Horror film. So ultimately, the question remains, why the hell did the Golden Globes ignore Arrival, especially when it seems to cross the delta between audience and critical appeal so successfully?
With social issues normally pulling focus come awards season, Arrival should be considered just as important as any of the other Best Drama nominees because it tells a story about the power of language, and the importance of co-operation. Both of those themes resonate pretty strongly in today's socio-political world, with the tensions between the world's governments and the importance of each uncertain translation or acts of frustration and terror reflecting a fictional world very much built out of the fabric of our own chaotic world.
But out of that uncertainty comes an even more important message: that of hope, and cooler heads, leading the world to a more unified peace. It's not a preachy afterthought, nor is it a cop out ending. If anything, Arrival ends on a bittersweet ending, as Amy Adams' Louise is rewarded for her efforts to save humanity with the knowledge that her husband will leave her, and her daughter will die. Humanity may be saved, but Louise's world is supposedly doomed to sorrow and upset, something that she accepts into her life for one reason or another.
Part personal drama, part wide-spanning sci-fi masterpiece, Arrival is one of the best films of the year, as it navigates those two stories with style and perfection. Denis Villeneuve's direction of both the outstanding Amy Adams led ensemble, as well as the fantastic Eric Heisserer adaptation of Ted Chiang's "The Story of Your Life," shouldn't have been underrated by the Hollywood Foreign Press Association either. With Villeneuve's eye for gorgeous scenery is only matched by his talent for staging both tense and understated moments, without missing a beat. The fact that both Villeneuve and Heisserer's work has not been recognized by the Golden Globes is nothing short of a travesty, as you don't normally get science fiction that's this accessible on a level of effort that ranks with the year's best films.
Thankfully, Arrival didn't go completely empty handed, as the powerhouse performance of Amy Adams and the musical masterwork of Johann Johannsson were both nominated for Best Actress - Drama and Best Musical Score, respectively. But still, the fact that a Best Picture - Drama nod escaped Arrival is something that just doesn't sit well at all. Ultimately, the Golden Globes voters don't always dictate the Best Picture race, and Arrival still has a chance to be an upset and gain some traction in time for the Oscars. The 10 picture field, with no category restrictions, is something that could probably help the film's chances to be the next Bridge of Spies or Brooklyn - two other Best Picture nominees that went without the love of the Golden Globes's Best Picture bump.
No matter what though, even with the sleights deal to the film's chances at prestige glory today, Arrival still stands as one of the best films in 2016, and quite possibly the last decade. If you haven't experienced the glory of this film's works, you should change that as soon as possible.
CinemaBlend's James Bond (expert). Also versed in Large Scale Aggressors, time travel, and Guillermo del Toro. He fights for The User.