Arrival Just Crossed A Huge Milestone At The Box Office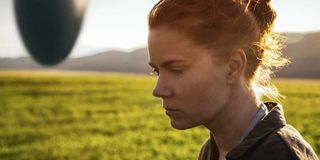 Arrival has made quite a splash since it arrived into cinemas three weeks ago, with critics quickly heaping praise on the sci-fi extravaganza, especially when it came to Denis Villeneuve's direction and Amy Adams' performance. It's also proven to flourish financially, as it has now been announced that Arrival has passed the $100 million mark at the box office.
Paramount Pictures passed on a press release to CinemaBlend that celebrated Arrival's financial triumph, confirming that as of Thursday it has now grossed $65.77 million in the United States and Canada, as well as $35.1 million internationally. These sums are all just three weeks after being released, and it has so far played across 2,400 locations in the US and Canada.
Arrival has particularly flourished in the United Kingdom, where it has grossed £7.73 million, otherwise known as $9.6 million, over the course of its 4-week run. This is already more than Denis Villeneuve's previous releases in the country, with his biggest success being when Prisoners took in £7.33 million.
Meanwhile, Arrival has fared nearly as well in Australia ($4.44 million) and Spain ($2.54 million), as it continues to accumulate impressive numbers across the globe, all of which underlines just how much of an international story it is.
This could just be the beginning, though, as Arrival is set to be in contention throughout the awards season- with Amy Adams' towering portrayal likely to get recognized over the course of the next few months, while director Denis Villeneuve, writer Eric Heisserer, and costar Forest Whitaker can also expect to be in with a shout of accolades.
Just on Thursday alone, _Arrival _received 10 nominations from the Critics Choice Awards, which included Best Picture, Director, Actress, and Adapted Screenplay nods, while the National Board Of Review were so enamored with the film that they recently named it as one of the top 10 of 2016. Amy Adams was also recognized by the NBR for her performance, as she won the National Board Of Review's Best Actress award. And not to feel left out, the 2016 Gotham Independent Film Awards awarded Adams a career achievement honor, too.
Those of you that haven't seen _Arrival _can finally be convinced to do so by having a watch of its mesmerizing trailer below, which gives a great indication of the film's mood, tension, mystery, and scope, while Amy Adams also just so happens to be superb in it, as well.
Arrival has still got two or three more weeks to add to its haul before the likes of Rogue One, Assassin's Creed, Passengers, Silence, Patriot's Day, Live By Night,A Monsters Call, Fences, and Hidden Figures all congest and contest for supremacy at the Christmas movie market.
Your Daily Blend of Entertainment News
Thank you for signing up to CinemaBlend. You will receive a verification email shortly.
There was a problem. Please refresh the page and try again.