What DC Should Do With Will Smith's Deadshot Character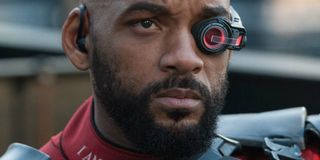 When the DCEU was first established, nobody really had any idea of what to expect. We knew characters like Batman (Ben Affleck) and Superman (Henry Cavill) would appear, but we had no idea that villains like Harley Quinn (Margot Robbie) and Deadshot (Will Smith) would become so popular with fans. Lo and behold, the villains have become just as popular as the heroes, and we've even learned that a Deadshot solo movie is officially on the way. If Warner Bros. truly intends to go down that route for a Deadshot movie, then that means there's one story opportunity that rises up above the rest: Floyd Lawton's rivalry with Batman.
One very important thing that we tend to forget about the end of Suicide Squad is the fact that Floyd Lawton doesn't really learn anything. Yes, he saves the world and he redeems himself in the eyes of his daughter, but at the end of the day he is still a paid killer who seems to take pride in his work. Remember, when Enchantress (Cara Delevingne) shows him his ultimate fantasy, he sees a revisionist version of history in which he actually manages to gun down Batman in a Gotham City alleyway. His hatred for The Dark Knight is so intense that the brutal murder of the vigilante plays into his perfect life with his daughter, and that's worth exploring further.
With that in mind, the Deadshot solo movie could be a small-scale, Gotham-based showdown between The World's Deadliest Assassin and The World's Greatest Detective. The inherent dichotomy between a hired killer and a brutal vigilante could make for some amazing action sequences, but it also allows the film to examine profound questions of morality that were missing from Batman v Superman: Dawn of Justice. If Deadshot is being paid to kill bad people, what difference does it make? Beyond that, does the fact that Batman has killed people before invalidate his no-killing rule and his quest for justice?
Of course, there's one final reason why a Deadshot vs. Batman movie would absolutely work: the way it could depict Batman. By shifting the focus away from The Dark Knight, and allowing him to become more of a secondary character, the film can reframe him through the eyes of a criminal. As a result of this, we could potentially see a scarier, more predatory Batman who can seemingly disappear at a moment's notice. That's something we haven't really seen since Christopher Nolan's Batman Begins, and it has immense potential.
Take a look at a clip from the Gotham Knight animated film to get a better look at how this fight could potentially go down:
What are your thoughts on this development? What direction do you think the DCEU should take Floyd Lawton after Suicide Squad? Let us know what you think in the comments section below to keep this conversation going!
CinemaBlend will bring you any and all relevant details related to the solo Deadshot movie as new information becomes available to us. The project s currently in development at Warner Bros.
Originally from Connecticut, Conner grew up in San Diego and graduated from Chapman University in 2014. He now lives in Los Angeles working in and around the entertainment industry and can mostly be found binging horror movies and chugging coffee.
Your Daily Blend of Entertainment News
Thank you for signing up to CinemaBlend. You will receive a verification email shortly.
There was a problem. Please refresh the page and try again.