Why J.A. Bayona Signed Up For Jurassic World 2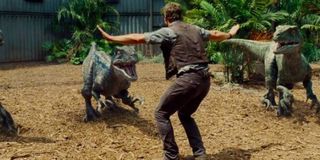 J.A. Bayona's career is blooming at the moment. After both The Orphanage and The Impossible charmed and enthralled audiences, he was given the opportunity to adapt Patrcik Ness' novel A Monster Calls. The results are startling, and the film has been steadily building a formidable reputation ahead of its release next week. But there's much more to come from the Spanish filmmaker. Because he's also been tasked with making Jurassic World 2, and he's now revealed why he just couldn't turn down the behemoth franchise.
J.A. Bayona provided this explanation to me when I sat down to chat with the director about his work on A Monster Calls. The discussion soon turned to Jurassic World 2, though, and J.A. Bayona revealed that as a filmmaker, he's always looking for a project that will challenge him and provoke him to learn, which is why he was so tempted to sink his teeth into a huge Hollywood production. J.A. Bayona explained,
From the sound of things, J.A. Bayona is hoping that a bit of the Spielberg magic is going to rub off on him when he's working on Jurassic World 2. Looking back through Bayona's previous films, it's clear to see just how influential Steven Spielberg has already been on his approach. With both The Orphanage and The Impossible, Bayona didn't shy away from showing the film from a child's perspective, while at the same time he managed to coax superb performances from his young actors, too. These are traits that Bayona continues with A Monster Calls, the trailer for which you can watch below.
On the face of it, J.A. Bayona has quite the task matching the success of Jurassic World 2, which was a huge hit when it was released back in June, 2015, as it went on to gross $1.670 billion at the box office. But the film itself was flawed, with its naysayers lambasting its cruel pursuit for scares, especially when it came to the bizarre death of Claire's assistant Zara in the film. So there's actually some scope for Bayona to improve upon with the film.
We'll get to see if he can do just that when Jurassic World 2 is released on June 22, 2018, while A Monster Calls will be here much, much sooner, as it'll be in cinemas for just a handful of days starting December 23.
Your Daily Blend of Entertainment News