Vin Diesel's Touching Message About Paul Walker And Fate Of The Furious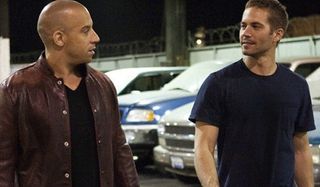 The Fate Of The Furious promises to be a rather emotional movie, not just because it appears to pit Vin Diesel against his fellow group of auto-enthusiasts, but because it's the first film in the Fast And Furious franchise since The Fast And The Furious: Tokyo Drift that doesn't feature Paul Walker. For obvious reasons, Vin Diesel has been thinking about Paul Walker, who died in an automobile accident back in 2013 during the production on Fast 7, and he's now posted a touching message about his pal.
Vin Diesel's message shows that following on from Furious 7, which had to be finished using extensive visual effects and the use of Paul Walker's brothers so that his character, Brian O'Connor, could have a fond farewell, the team behind the franchise are very much aware about maintaining the quality and popularity of the films for their lost friend.
They have quite a task on their hands making sure that The Fate Of The Furious manages to eclipse Furious 7, though. That's because the 2015 blockbuster proved to be the most successful installment to the series yet, grossing $1.516 billion, which makes it the sixth highest-grossing film of all time, while also managing to gain pretty impressive reviews, too, as it holds a score of 79% on Rotten Tomatoes.
Furious 7 also said goodbye to Paul Walker in a touching and heartfelt manner, as the film came to an end with this sequence. Just try and hold back the tears.
The Fate Of The Furious has pulled out all of the stops to try and exceed its predecessor. With Furious 7's director James Wan focused on Aquaman, F. Gary Gray (Straight Outta Compton) was brought on board for The Fate Of The Furious, while filming took place in Iceland, Cuba and New York City to bring new obstacles, texture and exoticness to the franchise. Plus, the first trailer for The Fate Of The Furious proved that they're going to take the franchise in a new direction with Dominic Toretto going up against his former cohorts. You can check out the record-breaking clip below.
We'll finally get to see if The Fate Of The Furious can indeed match Furious 7 when it's released on April 14, 2017.
Your Daily Blend of Entertainment News
Thank you for signing up to CinemaBlend. You will receive a verification email shortly.
There was a problem. Please refresh the page and try again.