Bloody New Alien: Covenant Image Proves This Film Is Going For Gory Horror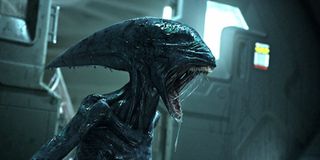 Earlier this month, I was able to attend a special presentation staged by 20th Century Fox where the studio showed off footage from its 2017 blockbusters, to get press excited for A Cure for Wellness, Logan, War for the Planet of the Apes and Sir Ridley Scott's Alien: Covenant. While we are still under embargo on what we saw in the Alien: Covenant footage, I was able to share that this will be a bloody, gory return to sci-fi horror, reminiscent of the director's first foray into outer space, where no one can hear you scream. And this new official image, shared on the film's Twitter page, back this claim up:
I think I can get away with telling you that the first trailer for Alien: Covenant, which will arrive before the end of the year, explains how this infirmary gets so blood-soaked. And while the terms "chest-bursting" was made famous thanks to the following scene from Alien, I have a feeling that Alien: Covenant is going to associate "bursting" with another part of the body. Be prepared to be horrified.
I still don't know what the numbers in the Tweet mean. 2104, the last four digits in the code, I believe refer to the year that the movie Alien: Covenant will take place. The rest of the code could be a numerical puzzle explaining when fans can look out for an Alien: Covenant trailer. It's coming. I can tell you that much. And it's going to churn your stomach (in the best way possible).
Alien: Covenant, directed by Ridley Scott, follows up his actions of Prometheus, but may not be as direct a sequel as we initially thought. Covenant is the name of the ship showcased in the new movie, which is a charter ship headed for an unmanned paradise. They don't find it, needless to say, but we think that they DO discover the android David (Michael Fassbender), who has survived his mission from the end of Prometheus. Only, of course, he's not alone.
There are still numerous secrets left to be unearthed by Alien: Covenant, and the trailer may open up the doors to a few major questions. For now, we know that the next chapter in the Alien franchise stars Katherine Waterston, Fassbender (playing two androids), Danny McBride, Billy Crudup, Amy Seimetz, Noomi Rapace, Guy Pearce and, as rumored, James Franco. It will be in theaters on May 19, 2017.
Managing Director at CinemaBlend. ReelBlend cohost. A movie junkie who's Infatuated with comic-book films. Helped get the Snyder Cut released, then wrote a book about it.
Your Daily Blend of Entertainment News
Thank you for signing up to CinemaBlend. You will receive a verification email shortly.
There was a problem. Please refresh the page and try again.