The Power Rangers Movie Will Come With An Awesome VR Tie-In Experience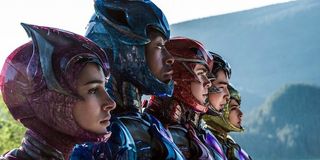 Movie studios are always looking for ways to amp up anticipation for their films that also tie into exciting new innovations. It looks as though Lionsgate and Saban Films have found the perfect piece of technology to do just that for their upcoming Power Rangers reboot, as it has been announced that fans will be able to go on a virtual reality experience that will allow them to enter the zords and take on the powers and capabilities of the superheroes.
Lionsgate and Saban Films have teamed up with Qualcomm Technologies to provide fans with this opportunity. It has now been confirmed that the Power Rangers Virtual Reality experience will debut at the 2017 International Consumer Electronics Show in Las Vegas, which will take place between January 5th and 8th early next year. As you can imagine, everyone involved in the virtual reality tie-in is rather excited about the project. Speaking to PR Newswire about the launch, Paula Kupfer, the senior vice president, global partnerships and promotions over at Lionsgate, declared,
The Power Rangers VR experience will be powered by Qualcomm's Snapdragon 835 flagship processor, which mixes real-time rendering and high-definition video with a superior response to create a fully immersive experience that centers around those go-getting Power Rangers. But what are you likely to see when you've got your head ensconced in the virtual reality unit? We're not exactly sure, but the first trailer for Power Rangers is likely to give us a good indication. You can have a gander at it below.
The upcoming Power Rangers reboot has been helmed by Dean Israelite, who previously oversaw 2015's Project Almanac, while it will see Dacre Montgomery, Naomi Scott, RJ Cyler, Becky G, and Ludi Lin take on the roles of the Power Rangers. They will be joined by Bryan Cranston and Elizabeth Banks as Zordon and Rita Repulsa, respectively, while Bill Hader will also voice the role of Alpha 5.
After accidentally discovering Power Coins, which just so happen to be the source of the original Rangers' power, the above quintet draw Rita Repulsa back to Earth. 65 million years earlier, Rita had been sent through a black hole to the far ends of existence after battling Zordon and the original Power Rangers for The Zeo Crystal. Now that she's back, Rita wants her hands on The Zeo Crystal again, which will give her power and control over life, and it's up to the new Power Rangers to stop her, while they also have to master their skills under the guidance of Zordon.
We'll see if they can do just that when Power Rangers is released on March 24, 2017.
Your Daily Blend of Entertainment News