The 10 Best Movie Music Moments Of 2016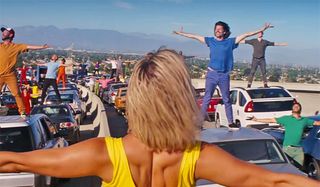 I've written the Best Movie Music Moments column for Cinema Blend since 2009, and I can tell you that this year was an incredibly special year from music in film. It helps that we got a shocking number of dazzling musicals, as well as new features from filmmakers like Richard Linklater and the Lonely Island crew, but even with just straight soundtracks I'd say that this was the best year for the meeting of the two mediums since the auditory bliss that was 2010. Of course, this also made it incredibly hard to settle on a Top 10 list.
Hard as it was, I've carved out my selections of what I believe are the 10 Best Movie Music Moments of 2016. Read on for my picks as well as my reasoning, and then hit the comments section to tell us what you think! And, of course, be sure to stay tuned for more of our year-end Top 10 lists here on Cinema Blend!
SPOILER WARNING: The following article contains spoilers for some of the movies featured on this list. If you have not seen one of the titles on this list, we recommend making a mental note of it (because it's awesome), but then clicking on to the next page!
"Sabotage" in Star Trek Beyond
Like many of you, I hated the first trailer for Star Trek Beyond. Not only did the footage feel very slapdash and thrown together, but the use of "Sabotage" by the Beastie Boys made it feel like the marketing department was just going for a song associated with Star Trek (J.J. Abrams having used the same track in his 2009 movie). Truth be told, I still don't think much of that debut preview for the sci-fi blockbuster... but the use of "Sabotage" in the actual film totally redeems its usage in the spot.
Sure, it may not add to the overall pop culture soundtrack of the Star Trek universe (Chuck D's "Fight The Power" served that purpose), but it's a chilling and thrilling moment when the Enterprise cranks up the volume to annihilate Krall's swarm of ships. It's both a brilliant movie music moment (I love it when songs are used both diegetically and create consequences), and one of the best action sequences of the year. Hint: this won't be the last time you hear about this climactic battle in Cinema Blend's Top 10 lists.
"Hello Stranger" in Moonlight
The awards season is about to expose a whole lot of people to Barry Jenkins' Moonlight, and that is a very good thing. The story of a poor young black kid's growth through three key stages in his life, it's a simple yet powerful film that hits a perfect note with a genuinely beautiful Movie Music Moment.
Arriving in the film's third act/segment, Black (Trevante Rhodes) has driven a long way to reunite with Kevin (Andre Holland) after many years apart -- and it all ties back to a song. Kevin tells his old friend that he heard a track on the jukebox that brought Black to mind, and so our grown-up protagonist goes to the diner where he works to see him. After the quarters drop and Barbara Lewis' voice begins to ring in the restaurant (Hello, stranger/it seems so good to see you back again/How long has it been?/It seems like a mighty long time) and everything between them clicks back. It's a stunning piece of cinema, and one of the best uses of music we've seen this year.
"We Know The Way" in Moana
If I had to pick a favorite song in Disney's Moana, I'd actually have to pick "How Far I'll Go." Star Auli'i Cravalho has a voice that is truly stunning for a performer so young, and it's beautifully performed both in its first iteration and in its reprisal. This isn't a list of Best Songs, however -- this is a list of 2016's Best Movie Music Moments. And in that department, we have to give the prize to "We Know The Way."
It's a sequence that's introduced with the help of a bit of magical realism -- Moana summoning the history of her ancestors while beating on a drum -- but comes out of this bit of percussion is epic and perfect. While the titular heroine has been told her entire life that her people are meant to stay confined to their island, she learns the truth in that she actually comes from a line of great explorers who used to constantly navigate the sea in search of new lands. The combined forces of Lin-Manuel Miranda and Opetai Foai come together in bilingual bliss with "We Know The Way," and it's one of the best moments in one of the year's best films.
"No Dames" in Hail, Caesar!
There are moments in the Coen brothers' Hail, Caesar! where you have to wonder if the writing/directing duo didn't partially make the feature just to experiment in all kinds of 1950s filmmaking. The consequence of this is that the movie as a whole is a bit scattershot by the time it comes to an end, but it does feature some incredible sequences from fake films -- including the musical number "No Dames" starring Channing Tatum.
The idea behind the song is that a group of Navy sailors regret that they'll be away from women during their long time away on the high seas, and it comes together as a hilarious routine with some seriously impressive choreography. The ridiculous and up-beat tone of the song is plenty to put a smile on your face, but there are also some remarkable moves executed within the confines of a barroom set. It's the best scene in the movie that doesn't feature Alden Ehrenreich's Hobie Doyle, and by itself adds a fantastic and different flavor to everything Hail, Caesar! has going on.
"Another Day Of Sun" in La La Land
If we're talking about Movie Music Moments, it's really best to start with the best musical of the year. Damien Chazelle's La La Land is a stunning, incredible piece of filmmaking that is filled with incredible music and choreography. Because of this, it was seriously hard to choose just one entry. "City of Stars" is somber and emotional, and Emma Stone's rendition of "Audition" is a show-stopper, and the finale is a heart-breaker -- but after careful consideration, I just had to go with the opening number, "Another Day Of Sun."
As someone who has spent days if not weeks of his life stuck on Los Angeles highways, I may be a bit biased towards the idea of making a terrible traffic jam look like fun -- but it's a sequence about following dreams that any human being can appreciate (provided they have a soul). More than just being a beautiful song, we also can't ignore the single-shot presentation that made its execution all the more incredible (it wasn't really all in one take, but we don't really care). Even without featuring either of La La Land's stars, it immediately enraptures you in the world, and sets the tone for the entire film.
Black Flag vs. Talking Heads in 20th Century Women
One of the major themes in Mike Mills' 20th Century Women is disconnection. Dorethea (Annette Bening) believes that she has completely lost touch with her teenage son, Jamie (Lucas Jade Zumann), but becomes further desperate that he doesn't become lost in general. Her main attempt to combat this is by putting her upbringing in the hands of her tenant (Greta Gerwig) and her son's best friend (Elle Fanning), but that doesn't mean she stops trying to connect with Jamie herself. One key way in which she tries to start understanding him again is by listening to the conflicting tones of Black Flag and the Talking Heads -- and it's one of our favorite Movie Music Moments of the year.
Music is an important element throughout 20th Century Women and an instrumental part of the way many of the characters wind up changing, but it's the examination of Black Flag vs. Talking Heads that gets the prize for me. On beyond wanting to reconnect with her son, the bit of musical analysis comes from punks vandalizing Dorethea's car and a desire for context - and it makes for not just a funny character moment (as she really can't wrap her mind around the appeal of either style), but also a great scene with Billy Crudup's super hippy character William.
"Equal Rights" in Popstar: Never Stop Stopping
The word "misguided" would be the best way to describe most of the songs performed by Andy Samberg's Conner4Real in Popstar: Never Stop Stopping. After all, they all begin with at least some version of good intentions... but then Conner's incredible stupidity gets in the way. This is on display many times in the faux-documentary, but the best of the bunch is definitely "Equal Rights."
To Conner's credit, the song promotes a good message about stopping hate and homophobia... but does so in quite possibly the most homophobic way possible. Each line that supports gay men and women is immediately followed with either a "Not gay!" or weird expression of masculinity, and it's everything that's great about the Popstar soundtrack. It also helps that it's framed with a great music video and a perfect talking head line from Ringo Starr: "He's writing this song for gay marriage like it's not allowed. It's allowed now!"
"Rappers Delight" in Everybody Wants Some!!
Richard Linklater's Everybody Wants Some!! doesn't really have a plot. Instead -- much like its spiritual predecessor Dazed And Confused - it's more of a "week in the life" story, following a team of college-students as they become friends before embarking on the new school year. Rather than having a focused narrative, the joy of the movie instead comes from hanging out with this fun group of guys and watching them become friends. It's for this reason that the "Rappers Delight" sing-a-long at the start of the film is so crucial, and it speaks to its quality that it's made our Movie Music Moments list this year.
Following a somewhat awkward introduction involving a water bed, a leaky house, and some good ol' fashion pitcher hate, Everybody Wants Some!! really thrusts the central characters together for the first time as they take a spin around campus -- and it's singing along with the Sugar Hill Gang that immediately solidifies their chemistry together and sets the tone for the whole film.
"Old Blue" in Fences
There are some seriously complicated relationships put at the center of Denzel Washington's Fences, but certainly one of the most significant is the conflict between father and son. Throughout the film, based on the play by August Wilson, Corey (Jovan Adepo) and his father, Troy (Denzel Washington), demonstrate a seriously strained bond -- with Corey believing his dad is holding him back so that he can never be more successful than him. Naturally, things don't get better when Corey runs away from home and Troy dies -- but that just makes it all the more powerful when Corey joins his half-sister on the porch and sings their father's favorite song before the funeral.
When Corey comes back home after Troy's death, he does so to tell his mother that he isn't planning to go to the funeral. He's lived with bitterness in his heart about his father for so long that he can't pay any kind of respects. This changes, however, when he joins Raynell on the porch and they start singing "Old Blue" while reminiscing about their father. It's a heart-wrenching moment as Corey finally allows himself to remember Troy in a kinder light -- visibly breaking with the lyric "Dug his grave with a silver spade/Lowered him down with a golden chain." It's an amazing performance from Jovan Adepo in a film brimming with amazing performances.
"Drive It Like You Stole It" in Sing Street
John Carney's Sing Street is a movie for dreamers. Conor (Ferdia Walsh-Peelo) has lofty goals of starting a band and making music that people will love, and while he has very few resources to actually make that happen, that doesn't stop him from trying. This is at the heart of his wanting to record a large-scale music video for his song "Drive It Like You Stole It" -- complete with flashy prom setting and choreographed dancers. Ultimately it proves to be something that is just beyond his grasp with where he is in life -- but his imagination and lofty expectations still take us to an amazing cinematic place that creates one of the best Movie Music Moments of 2016.
This was definitely another film that had me weighing a couple of different thoughts for candidates, as Sing Street is everything you want from a music-driven coming-of-age story, but upon reflection, it's really the "Drive It Like You Stole It" dream sequence that makes the biggest impact. More than just the fact that it's a wonderfully fun, grin-inducing sequence, you also have to realize that the lyrics perfectly summarize the entire attitude of the movie and its characters. It's perfect.
NJ native who calls LA home; lives in a Dreamatorium. A decade-plus CinemaBlend veteran; endlessly enthusiastic about the career he's dreamt of since seventh grade.
Your Daily Blend of Entertainment News
Thank you for signing up to CinemaBlend. You will receive a verification email shortly.
There was a problem. Please refresh the page and try again.