'Once' Director John Carney Teams With The Weinsteins And U2 For Irish Musical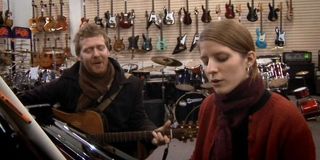 Dublin-born musician and filmmaker John Carney broke through on the world's stage in 2007 when his musical romance Once made its American debut at the intensely-covered Sundance Film Festival. From there, the drama about a brokenhearted busker and the bond he forms with a lovely immigrant woman - who happens to play a mean piano - took off, earning fans, selling soundtracks, inspiring a Broadway musical, launching the band The Swell Season, and winning an Academy Award for the song "Falling Slowly." For his next project, Carney is looking to return to Ireland, and The Weinstein Company is on board along with the U2's most notable members.
The Playlist reports The Weinstein Company has come aboard to distribute John Carney's Sing Street, a coming-of-age musical drama that will feature songs penned by U2's Bono and the Edge.
Here's the film's official plot synopsis:
We first heard about Sing Street earlier this year, when Bono and The Edge first announced their involvement. Along with this news, John Carney had teased the plotline, and let slip that the script he himself wrote and will direct is loosely inspired by his own life. Before he tried his hand at directing films, Carney was a member of the Irish rock band The Frames, which was founded by Once star Glen Hansard. He got his start in making movies by creating his own music videos and shorts, a journey that will be mirrored in Cosmo's tale.
No mention is made as to whom John Carney may cast in Sing Street. However, as production is set to begin on location in Dublin this September, we expect to hear updates on that front in short order.
In the meantime, another Carney/Weinstein collaboration will be hitting theaters this summer, hoping to recapture the wonder Once inspired. Written and directed by Carney, Begin Again stars Keira Knightley as a heartbroken singer-songwriter who finds her luck change once she meets a down-and-out music exec (Mark Ruffalo) desperate for a new star and fresh inspiration.
Back when it was called Can A Song Save Your Life? this affable musical made its world premiere at the prestigious 2013 Toronto International Film Festival, where it drew praise from our very own Sean O'Connell. Following its U.S. debut at the Tribeca Film Festival, where I reviewed it, Begin Again is readying for a theatrical release on July 4th. No release date has yet been announced for Sing Street.
Your Daily Blend of Entertainment News
Staff writer at CinemaBlend.