The 10 Best Lines Of Movie Dialogue In 2016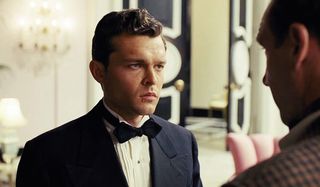 The year 2016 saw no shortage of tremendous movies arriving on the big screen -- and a great deal of credit for many of them belongs to the screenwriters. We've watched fun adventures and devastating journeys, and also listened to some amazing speeches and back-and-forths between richly-drawn characters. Today we're here to specifically celebrate the latter and identify the best lines of movie dialogue in the last twelve months.
This wasn't an easy list to create, particularly when taking into consideration both genre and the context of each scene, but we've manages to narrow it all down and select our Top 10 of the year. Read our selections below and on the next few pages, and hit the comments section with your favorites from 2016.
SPOILER WARNING: The following article contains some spoilers for the films that are examined. If you go to a page that features a movie you haven't seen, please make a mental note of the title, and head on to the next page!
"You know who else was just following orders? Adolf Hitler." - The Nice Guys
Snappy dialogue from stepped-on anti-heroes has been Shane Black's bread and butter since breaking out on the scene with his Lethal Weapon script in the late 1980s, and it's a huge part of what makes The Nice Guys such an incredible experience. The banter between Holland March (Ryan Gosling) and Jackson Healy (Russell Crowe) is absolutely genius, as each sequence is peppered with brilliant one-liners that speak directly to the characters delivering them. A perfect example of this is Holland's odd fixation with Nazis and Germany -- which gets filtered through his special brand of stupidity. This is how you get a line as great as "You know who else was just following orders? Adolf Hitler" -- said to a cop who is just doing his job guarding a crime scene and won't let Holland leave. It's one of hundreds of brilliant lines in The Nice Guys, but it's our favorite.
"Would that it were so simple." - Hail Caesar
Hail, Caesar's Hobie Doyle (Alden Ehrenreich) is unquestionably one of the greatest characters that Joel and Ethan Coen have created. The sibling filmmakers have made a number of movies about serious idiots before, but Hobie is one of the funniest, and an easy frontrunner for dumbest -- highlighted by his experience on the set of the fake period drama Merrily We Dance. Director Laurence Laurentz (Ralph Fiennes) practically has an aneurysm trying to get him to properly say the line, "Would that it were so simple," and the increasing frustration and confusion during the sequence only makes it more and more hilarious. And, of course, it all leads to a wonderfully executed punchline with the line ultimately given a two word replacement that sums up a lot of the Coens' latest: "It's complicated."
"A non-zero-sum game!" - Arrival
At its core, Denis Villeneuve's Arrival is the story of the importance of communication. More than just being about humanity's need to communicate with the aliens that have come to Earth, it's about our need to communicate with each other in time of crisis. This all comes together within a realization that Louise Banks (Amy Adams) has when trying to figure out how the nations of the world can work together -- and it comes down to the idea that a deal can be reached where everyone gets a bit of something they want, allowing everyone to be satisfied as a result. It's the domino that falls within the film that takes the narrative through to its amazing, twisty end, ultimately making Arrival one of the best movies of the year.
"I am one with the Force; the Force is with me." - Rogue One: A Star Wars Story
The Star Wars franchise is laced with iconic quotations -- particularly when it comes to talking about The Force. This in mind, you'd think it would be impossible for the series to come up with yet another one... and yet Gareth Edwards' Rogue One: A Star Wars Story does exactly that. We can't say which of the screenwriters on the project, Chris Weitz or Tony Gilroy, came up with Chirrut Imwe's repeated mantra, but it's a phrase that Star Wars fans will be quoting for decades going forward. It's not only an articulately constructed and simple line, but it also happens to be deeply associated with two of the film's most emotional and awesome moments.
"Don't let it be forgot. That for one brief, shining moment. There was a Camelot. There won't be another Camelot. Not another Camelot." - Jackie
Pablo Larrain's chilling, nightmarish historical drama Jackie is about sudden transition in the face of unspeakable tragedy. Natalie Portman loses herself in the identity of Jackie Kennedy, an icon and a seemingly untouchable figure of American political royalty who'd knocked from her perch when an assassin takes her husband. While then world moves on (in a harsh and swift fashion), Mrs. Kennedy is left to put back the pieces... not just of her sanity, but of her legacy. Larrain frames Jackie with a rare press interview, with Portman controls the writing of her character's lasting history. And the above quote reminds us that on that fateful day in Dallas, Texas, our country was changed in deeply profound way, and we will never be able to go back. (Contributed by Sean O'Connell)
"Do you sell drugs?... And my momma, she do drugs, right?" - Moonlight
We've discussed some seriously heavy scenes from 2016 films so far, but they have all been delivered in the second act or later. Barry Jenkins' Moonlight wastes no time in making audiences' hearts leap into their throats, as he accomplishes it with one very simple back and forth in the first act. Little (Alex Hibbert) has been well taken care of by Juan (Mahershala Ali) -- who has protected him from bullies, and given him meals and a place to sleep -- but as they get closer the young kid starts to put some important puzzle pieces together. While sitting around a dining table, Little innocently confronts Juan about selling drugs to his mother, and the tension is palpable and heartbreaking -- particularly thanks to Ali, who locks up his first Oscar win with his reaction to the questioning. It's subtle and incredible, much like the movie at large.
"Big house! It's funny that I only ever see two of you. It's almost like the studio couldn't afford another X-Man." - Deadpool
Picking a line from Tim Miller's Deadpool for this list was a significant challenge. Thanks to an amazing script by Rhett Reese and Paul Wernick, and the quick wit of actors like Ryan Reynolds and T.J. Miller, the comic book blockbuster has so many amazing lines that some just disappear beneath continuous audience laughter. That said, I ultimately settled on the perfect bit of dialogue that both sums up the titular character's attitude and his special ability to break the fourth wall. Over the course of six X-Men features, audiences have seen hundreds of students milling around Xavier's School For Gifted Youngers, and yet Deadpool features literally just two residents: Colossus and Negasonic Teenage Warhead. It's an element that geeks would be quick to point out themselves in reaction to the film, but the Merc With The Mouth hilariously hangs a lampshade on it, and makes it one of the best moments in the movie.
"I can't beat it. I can't beat it." - Manchester By The Sea
Cinema history is filled with stories about individuals who find their way back from the brink following a terrible tragedy within their own lives -- able to restart their life happy and renewed. Kenneth Lonergan's Manchester By The Sea is not one of these films. By the end of the story, Lee Chandler (Casey Affleck) is able to crack a smile or two at times, and even has his moments of joy -- but it's all fleeting. The truth of the matter is that Lee just can't shake the insane guilt that plagues him following the death of his children, even with the support of his family and ex-wife. It's devastating, but it's an element of Manchester By The Sea that makes it special, unique, and depressingly real, and it's all summed up in Lee's the four word phrase said twice to his nephew, Patrick (Lucas Hedges).
"I want it to be over. I can't stand knowing that she'll go. I want it to be finished!" - A Monster Calls
Young Conor O'Malley (Lewis MacDougall) carries a demon with him throughout all of J.A. Bayona's A Monster Calls, and its name is Guilt. It manifests itself in destructive and anti-social behavior because it quietly tortures the boy, who is suffering emotionally living with his dying mother (Felicity Jones). It's something that he keeps entirely to himself up until The Monster (Liam Neeson) forces it out of him in the film's conclusion, Conner screaming his deepest, darkest secret to the world: that he just wants his mom to die so that all of the waiting will just be over. It's both a shocking and emotional scene, loaded with verisimilitude in its portrayal of the protagonist's grief. It's one of the most powerful cinematic moments of the year, largely thanks to one line.
"I been standing with you! I been right here with you, Troy. I got a life too. I gave eighteen years of my life to stand in the same spot with you. Don't you think I ever wanted other things? Don't you think I had dreams and hopes? What about my life? What about me?" - Fences
In bringing August Wilson's Fences to the big screen, Denzel Washington had the wherewithal to basically make a direct adaptation that changes very little from the source material -- and that includes many of the most powerful monologues. This includes what is one of the most earth-shattering moments of the story, when Troy (Washington) reveals to his loving wife, Rose (Viola Davis) that he is going to have a baby with another woman. He tries to explain his actions by saying he doesn't want to stand in one place his whole life, but Rose's response is utterly shredding and incredible, as she makes him realize the way in which she has dedicated her entire life to him. Davis' delivery is so stunning that you have to lean back in your chair to take it all in, and by the end you're literally left trembling.
Your Daily Blend of Entertainment News
Assistant Managing Editor
NJ native who calls LA home and lives in a Dreamatorium. A decade-plus CinemaBlend veteran who is endlessly enthusiastic about the career he's dreamt of since seventh grade.