The 10 Most Pirated Movies In 2016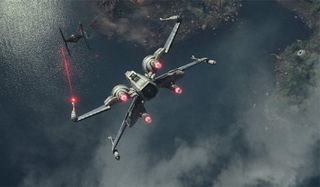 From January to December, 2016 wound up being a big year for box office numbers - the industry posting a record-setting gross as major hits were released theatrically in just about every single month. Of course, in the modern world, major blockbusters also mean major illegal download numbers, and the past twelve months were definitely no exception.
TorrentFreak has posted its annual list of the most downloaded movies on BitTorrent, and while there are plenty of expected titles that made the ranking, there are also some interesting surprises as well.
10. The Revenant
Every other film that you'll find on this list would be considered a standard blockbuster by most, but Alejandro González Iñárritu's The Revenant is the exception from the norm. It seems that there was a significant audience that wanted to watch Leonardo DiCaprio suffer in the woods for two-and-a-half hours, but were unwilling to legally pay to do so. It didn't exactly have too much of a negative impact on the box office results, as the film still brought in over $500 million internationally by the time it was done with its big screen run.
9. Finding Dory
The year 2016 was a great one for animation - with titles like Zootopia, Kubo and the Two Strings, and Moana - but Andew Stanton's Finding Dory was the only one that wound up on this list of Torrented movies. This is another case where the illegally downloaded versions of the feature didn't impact the film's box office take, as it was one of only three features to pass the $1 billion mark worldwide, but it seems that there was a big audience that wanted to watch the Pixar sequel at home before they officially could do so.
8. Suicide Squad
David Ayer's Suicide Squad wound up being one of the most successful blockbusters of the year, pulling in $746 million against its $175 million budget - but it wound up being one of the most popular titles to be Torrented as well. The difference between this film and the previous two entries is that this is the first on this list that really got decimated by critics, and had seriously rough buzz going into theaters. We can't really say if this was an influential factor in the film being illegally downloaded, but it is a factor that will reappear on this list going forward. Speaking of which...
7. Independence Day: Resurgence
Being featured on this list is definitely adding insult to injury for Roland Emmerich's Independence Day: Resurgence. After all, the film first suffered at the hands of critics last summer - getting absolutely rotten reviews going into theaters - and then it seriously under-performed at the box office (making just $387 million internationally versus its $165 million budget). Learning that it was one of the biggest hits on BitTorrent almost certainly won't make anyone who worked on the film very happy.
6. Warcraft
Like Independence Day: Resurgence, Duncan Jones' Warcraft was another middling performer at the box office, ultimately bringing in a little over $430 million worldwide, but it did find a certain level of popularity with the users of BitTorrent. Of the movies on this list, it's worth noting that it's the highest ranking title that isn't based on a pre-existing cinematic franchise... though given how the ending of the story plays out, it's pretty clear that it was intended to be a launching point for one.
5. X-Men: Apocalypse
Comic book movies are some of the few sure-fire hits at the box office these days, but they're also quite popular with the folks who like to illegally download movies. Half of this Top 10 list is made up superhero properties - including Bryan Singer's X-Men: Apocalypse at the #5 spot. Like some of the other titles discussed here, the Memorial Day weekend blockbuster wasn't exactly loved by critics, but it's theatrical take seemingly wasn't dented by the Torrents, as it still pulled in a healthy $543 million worldwide.
4. Star Wars: The Force Awakens
J.J. Abrams' Star Wars: The Force Awakens is the second film on this list that wasn't released in 2016, but given that the blockbuster wasn't in theaters until mid-December 2015, it was always destined to appear (in the same way that we can guarantee Rogue One: A Star Wars Story will be on the Top 10 when we put together this list next year). As the film is the third biggest movie of all time, making about $2.1 billion internationally, Torrent downloads don't seem as significant a factor in the larger scheme compared to some other titles mentioned here, but ranking #4 is certainly still notable.
3. Captain America: Civil War
As of right now, Joe and Anthony Russo's Captain America: Civil War is the reigning champion of the 2016 box office, as it made more than $1.15 billion at the global box office... but it didn't manage to top this particular list. Instead, its ranking when it comes to illegal downloads actually matches its domestic ranking last year, taking the number three slot. Like I said, comic book movies are big with the BitTorrent crowd, and you'll see that reflected in the last two entries as well...
2. Batman v Superman: Dawn of Justice
Taking second place on this year's list of illegally downloaded titles is Zack Snyder's Batman v Superman: Dawn of Justice. Again, this is another example of a film that didn't get the support of critical buzz, meaning that some may have chosen to pirate instead of pay for a ticket - but it was also certainly one of the most popular titles of the year, which means that fans may have seen it on the big screen and then downloaded for a rewatch. That just leaves one last title to discuss, and by process of elimination, many of you have probably figured it out by now.
1. Deadpool
Tim Miller's Deadpool wound up being one of the biggest surprise box office hits of the year, and now, despite being Rated-R, it's actually the highest grossing title in the X-Men franchise. Another "honor" it received, however, is that it was illegally downloaded on Bit Torrent more than any other title in 2016. It certainly must help that it came out all the way back in February, meaning that it has been available for download more than any other title on this list... but you also can't discount the teenagers who wanted to see the movie, but were excluded from screenings due to the rating.