This Bill & Ted Honest Trailer Is Way Too Mean, Even If It's Right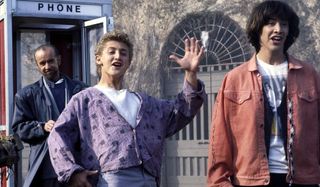 Wait, has it really been almost 30 years since Bill and Ted's Excellent Adventure was in theaters? It really doesn't feel like it, but then again a decade or so tends to get lost whenever time travel is involved. Considered a cult comedy classic by many far and wide, the film has gotten nothing but love, despite having two failed TV shows and a sequel that hardly anyone talks about. So who on Earth would think to speak some hard truths about this well regarded film? Well, you have two guesses, and the correct one is Honest Trailers, and you can watch their loving takedown below.
Leave it to Screen Junkies and the dulcet tones of their in-house narrator to take Bill and Ted's Excellent Adventure and deliver a hard examination on how pretty much all "two dumb guys being dumb" comedies owe a debt of gratitude to Keanu Reeves' Ted "Theodore" Logan and Alex Winter's Bill S. Preston, Esquire. It's definitely a comparison that's hard to shake, particularly when you compare them to Wayne and Garth from Wayne's World, and replace trying to pass a history exam with trying to make it big on television.
Still, it's not like the film is a total rip-off... hey, wait a second. Rufus' phone booth totally IS a thinly veiled copy of the TARDIS from Doctor Who. It's hard to believe that it took almost 30 years for someone to call out Bill and Ted's Excellent Adventure on that fact. Despite the extremely American look, the film really does feel like a Doctor Who episode with less drama, and a lot more comedy. Though there is one extremely bright spot to the Whovian air the film adopts oh so slightly: George Carlin would have made a fantastic American Doctor.
So after all of the nit-picking, Doctor Who thievery, and historical sugar coating of people that should probably still be feared and revered, does Bill and Ted's Excellent Adventure still hold up? We're proud to say that yes, it is indeed, still excellent. While it's no Back To The Future, both in quality and in its usage of accurate time travel mechanics, Bill and Ted are just as lovably doofy as they were back in the day. Hell, even if most people won't talk about Bill and Ted's Bogus Journey openly, we'd still love to see a second sequel that reunites the Wyld Stallions for one more trip through time. Especially because, as the video half pointed out, the guys totally look like their 80's selves. In fact, you can see Alex Winter's current appearance below, which comes from a Kickstarter video that Winter had put together to pitch a Frank Zappa documentary.
While we, sadly, don't know if Bill and Ted 3 will ever happen, you can see Keanu Reeves in John Wick 2, which opens in theaters on February 10th, 2017. Alex Winters, on the other hand, is working on Who The F*@% Is Frank Zappa?, which actually made its Kickstarter goal.
Senior Movies Contributor
CinemaBlend's James Bond (expert). Also versed in Large Scale Aggressors, time travel, and Guillermo del Toro. He fights for The User.
Your Daily Blend of Entertainment News
Thank you for signing up to CinemaBlend. You will receive a verification email shortly.
There was a problem. Please refresh the page and try again.