John Wick 2: What We Know So Far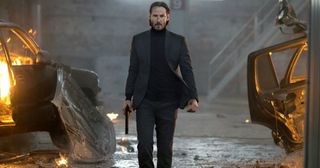 Nobody expected John Wick to become such a phenomenon when it landed on the scene in the fall of 2014. A small-scale revenge thriller, the Keanu Reeve fronted action movie made a serious impression on audiences with its relatively simple story, its immaculately crafted action sequences, and (most of all) its utter dedication to creating an authentic, lived-in world of killers, thugs, and bad guys. Despite the fact that it was produced on a shoestring budget of roughly $20 million, John Wick became a bona fide R-rated hit by grossing $86 million worldwide. Beyond that, the film also performed incredibly well with critics, garnering an 85% "Fresh" rating on Rotten Tomatoes -- no easy feat for an R-rated action movie.
With that combined commercial and critical acclaim, it only made sense that a sequel quickly entered development. The John Wick sequel -- appropriately titled John Wick: Chapter 2 -- will hit theaters in 2017, and it's quickly become one of the most highly anticipated action movies of the coming year. We cannot even begin to express our excitement for John Wick 2, and as such we have taken it upon ourselves to compile all of the information we can regarding its upcoming release. Now let's get started with one of the most basic, and yet most important, elements of the upcoming John Wick sequel: the story...
What Is The John Wick 2 Story?
The original John Wick deserves quite a bit of credit. The filmmakers really tied up the story so neatly that none of us can really figure out where a sequel could possibly go. Mr. Wick got everything he needed out of the events of the original film; the men who killed his beloved beagle were punished, and he managed to walk (read: limp) into the night with a new canine companion to take care of. Now it seems that the sequel will take the basic DNA of the original, and send it in a very new direction. The overarching narrative of John Wick 2 will see the titular killer once again come out of retirement due to a blood oath he owes a former associate. This commitment will see him travel away from his home in New York to Europe in order to face off against a group of ruthless killers intent on taking over the underground assassin's guild. You know that this means: more carnage.
With that in mind, it sounds like the next John Wick will draw from John Wick's past for its conflict, and that means we will get far more insight into the mind of the character himself. Keanu Reeves recently revealed that the film would deal with the duality of Wick. There's "John," the docile man who spent five years married to the love of his life. Then there's "John Wick," the deadly assassin feared by the entire criminal underworld. Something from John's past will come back to haunt him in John Wick: Chapter 2, and the John Wick side of his personality steps in to fight for his survival.
When Is The John Wick 2 Release Date?
Although the original John Wick was a fall release (hitting theaters on October 24, 2014), it seems that John Wick: Chapter 2 will switch things up a bit and opt to hit theaters in late winter. According to Box Office Mojo, John Wick: Chapter 2 will hit theaters on February 10, 2017. Just in time for Valentine's Day, obviously.
In previous years, releasing a major R-rated action movie like John Wick: Chapter 2 in the middle of February would've seemed like a generally odd endeavor for a studio. However, the recent success of Deadpool showed us that audiences will turn out in droves for a solid action blockbuster during the shortest month of the year if it's worth it. We're not saying that John Wick 2 will rival the success of Deadpool, but anticipation for it is very, very high.
Who Is The Director Of John Wick 2?
If it isn't broken, then don't fix it. Behind the scenes everything worked perfectly on the first John Wick, and it seems that nobody has any intention of changing horses midstream. Keeping that in mind, Chad Stahelski will once again return behind the camera to helm the next installment in John Wick's story. Additionally, his uncredited co-director from the original John Wick, David Leitch, has also opted to stay onboard as a producer for the upcoming sequel. Considering the quality of the action as well as the performances, in the original John Wick, the decision to bring these two back should instill quite a bit of confidence in audiences.
In addition to Chad Stahelski's return as franchise director, John Wick: Chapter 2 has also brought screenwriter Derek Kolstad back to pen the film's script. With so many familiar elements returning to the fray, we have a feeling that Chapter 2 will truly feel like a proper sequel.
Where Does John Wick 2 Take Place?
The upcoming John Wick sequel will provide plenty of familiar environments, but it will also introduce a new world within the established one. We already know that Winston's Continental Hotel will return as a central location for the film's narrative, which means that all of the rules and customs established in the first movie will return as well. This definitely comes as a relief, because the gritty, urban New York setting of the original John Wick certainly added a great deal of authenticity to the proceedings.
However, as previously stated, John Wick: Chapter 2 will eventually switch things up and take the action overseas as well. In addition to the New York shooting locations, we have learned that the John Wick sequel has also shot scenes in Rome, Italy. The exact nature of these scenes (as well as their overall impact on the plot) remains a mystery, but we have a feeling that the Rome location will come with its own new set of rules and customs that John will have to abide -- or face the consequences.
Keanu Reeves - John Wick
The man himself. Of course Keanu Reeves will return for John Wick: Chapter 2. You cannot have John Wick without John Wick. Despite the fact that John tried to find peace again at the end of the original film, it appears that something will occur in his life that will once again draw him back into the underground world of criminals, assassins, and general low-life scum. If he's coming back, expect plenty of mayhem and bloodshed to follow.
As previously stated, it appears that John Wick: Chapter 2 will delve much deeper into the duality of the series' titular gun-toting hero. John Wick is very clearly a man more at odds with himself than we even realize. The "John" portion of his personality longs for a peaceful existence, but the"John Wick" aspect of his mind has an innate knack for killing, and it's difficult for him to completely suppress that bloodlust. We saw hints of that underlying rage during the events of the original film, and it looks as though we will get a much more thorough understanding of what makes this assassin tick in the coming film.
Laurence Fishburne - The Bowler King
That's right, folks. John Wick: Chapter 2 will feature a bona fide Matrix reunion, and we cannot even begin to describe how excited we are for it. Laurence Fishburne will take on the role of The Bowler King in the upcoming John Wick sequel. It's unclear whether or not he's a friend or a foe to John Wick, but his presence will quite obviously be one of the major reasons that Mr. Wick jumps back into action. Given their previous on-screen interactions, we're willing to bet that they're allies.
One of the most intriguing aspects of Laurence Fishburne's involvement in John Wick: Chapter 2 is the way in which he will reportedly expand the John Wick universe. He has nothing to do with the world we have already been introduced to. During a recent interview, the former Morpheus opened up regarding his involvement in the highly anticipated sequel and explained that The Bowler King comes from a world entirely separated from Winston's Continental Hotel, but still firmly rooted within the John Wick universe. This seems to indicate that the film's world of assassins and criminals runs even deeper than we realized, and possibly even points towards warring factions of killers.
Ian McShane - Winston
If there's one character from the original John Wick that we're excited to see return (aside from Wick himself), it's Ian McShane's Winston. The prim, proper, and generally dapper owner of The Continental Hotel, Winston proved himself quite reliable as one of the few allies that John Wick could really trust during the events of the first movie. Ian McShane completely owns the character, sipping a martini casually while talking with John across the table, or ordering the death of a rule-breaker in his hotel. The Deadwood star does quiet menace better than anyone.
However, knowing that John Wick will leave the confines of The Continental and make his way to Europe has us scratching our heads. Winston seems so inextricable from The Continental itself that we cannot really the gauge the size or scope of his role in John Wick: Chapter 2. Will he survive long enough to see John off? Will he simply wish John well as he travels overseas to kick some ass? Or will he even decide to accompany John Wick on this mission? These are questions we need answered.
John Leguizamo - Aurelio
The moment John Leguizamo first appeared on screen during the events of the original John Wick was the moment we truly realized the depth of the universe we would soon enter. His character, Aurelio, is the owner of a high-end chop shop in New Jersey, and a source of information regarding the ins and outs of the criminal underworld. If he's coming back to the fray, we can likely assume that John Wick will turn to him for inside information concerning the new threat that he's facing, and perhaps a shiny new car.
Common
Another major addition to the cast, Common has continuously proven himself as one of the best musicians turned actors working today. Although very few details regarding the exact nature of his character have been made available to us, we have learned that he will take on the role of a security head for a major female crime lord during the events of John Wick: Chapter 2. With that in mind, we can reasonably assume that he will pose a serious physical threat to the titular hero, while an even worse big bad continues to loom in the shadows.
This casting shouldn't come as a major shock to anyone that has become familiar with Common's body of work in recent years. His turn as "Price" in the wholly underrated 2015 Liam Neeson thriller, Run All Night, proved that the rapper has what it takes to pull off the role of a cold, meticulous assassin. We have nothing but faith in his ability to present a distinct challenge to Mr. Wick throughout the course of the upcoming sequel.
Ruby Rose
Rounding out the principle cast of John Wick: Chapter 2 is none other than Orange is the New Black's Ruby Rose. Out of all the major players in the upcoming John Wick sequel, she's the character we really know the least about. On one hand, her character could provide a potential love interest for the deadly Mr. Wick, if he's ready to finally move on following the passing of his wife -- played by Bridget Moynahan in the original movie, who will once again return for flashback sequences.
On the other hand (and this is a far more likely scenario) Ruby Rose's character could be one of the many deadly criminals that John Wick will face off against during his next rampage. The original John Wick's Ms. Perkins (Adrianne Palicki) already proved that woman can be just as deadly (if not deadlier) than men in this universe, so anything's possible. Ruby Rose will also appear in xXx: The Return of Xander Cage one month and Resident Evil: The Final Chapter before John Wick: Chapter 2 hits theaters, so she seems to be gunning for action hero status in Hollywood.
Your Daily Blend of Entertainment News
Originally from Connecticut, Conner grew up in San Diego and graduated from Chapman University in 2014. He now lives in Los Angeles working in and around the entertainment industry and can mostly be found binging horror movies and chugging coffee.
Your Daily Blend of Entertainment News
Thank you for signing up to CinemaBlend. You will receive a verification email shortly.
There was a problem. Please refresh the page and try again.