The Fantastic Beasts And Where To Find Them Book Is Getting Re-Released With Some New Content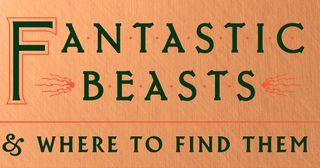 Those trying to pick up a copy of Fantastic Beasts and Where To Find Them this holiday season, may have discovered that the textbook on which the recent film was based was in short supply. That's likely because the bonus book is lined up to be rereleased this year, and today it was announced that the book will include some new content.
The newly printed edition of the Fantastic Beasts and Where To Find Them bonus book hits shelves March 14th, and will include six new magical creatures, along with a brand new forward from none other than the author and magizoologist Newt Scamander, himself. And according to Pottermore, we'll also see beautiful line illustrations from artist Tomislav Tomic.
Though it inspired the recently released Fantastic Beasts and Where To Find Them feature film, the screenplay of which was published as a book, Fantastic Beasts was never actually a novel. The original book was formatted like a textbook, indexing and describing various beasts in the magical world. It even included notes and doodles from Harry and Ron in the margins. The book was published in 2001 alongside Quidditch Through the Ages during the time period that would become the excruciatingly long wait between the publishing of Harry Potter and the Goblet of Fire, and Harry Potter and the Order of the Phoenix.
The original print of Fantastic Beasts included a forward from Albus Dumbledore. It sounds like Newt will be doing his own forward this time around, which prompts the question, is Newt Scamander actually still alive? He'd be over a hundred if he is, but given the generally long lifespan of witches and wizards -- who manage to avoid dangerous hexes, the wrath dark witches and wizards, dragon pox and a myriad of potential magical accidents -- it's possible Newt is still enjoying retirement somewhere in J.K. Rowling's present-day magical universe.
As for the six additional beasts, will any of these offer clues about what's ahead in the Fantastic Beasts films? And will the Obscurus be added? Or is that a magical being, as opposed to something classified as a beast? We'll have to wait and see what's included among the new entries.
In the meantime, Pottermore also shared this look at the cover of the ebook:
I'll admit, when I first saw that image, I got really excited, hoping it would be a correct assumption that the new print of Fantastic Beasts would be a leather-bound edition or at the very least, that would be an option, because gorgeous. Alas, what we're seeing above is the eBook cover. Still, the print covers for Bloomsbury and Scholastic's respective publications of the new edition are undoubtedly something to look at.
Headcase Design did the one for the U.S. edition...
And Jonny Duddle is to credit for the fabulous illustration on the Bloomsbury cover.
Ok, now I'm going to admit something... As a Harry Potter fan and collector, I'm experiencing a mixture of excitement and tiny bit of frustration here, as I can't wait to take a look at the new content, but I actually already own four copies of the Fantastic Beasts and Where To Find Them textbook. It's not like I was trying to make this happen. The first, I got in the Fantastic Beasts/Quidditch Through The Ages set when it first released. The second was a gift I received after The Tales of Beedle the Bard was added to the Hogwarts Library. The third was a gift-shop purchase at the Warner Bros. Leavesden Studio Tour. (On that one, if I'd been thinking clearly I probably would've reminded myself that I already had 3 other copies of the book and did not need another one even if this one would somehow be more special because I got it near where they make the movies.) The fourth is the eBook, which I probably refer to most frequently for quick and easy reference.
Will I buy the new edition of Fantastic Beasts? In the word of Severus Snape: Obviously.
Still, five copies.
Well, as they say: In for a knut... #JustTakeMyMoney
And on the subject of money, it's actually not the worst thing in the world to spend your galleons on this book, even if you're like me and finding yourself conflicted over re-purchasing a book you already own. Proceeds from the sale of Fantastic Beasts and Where To Find Them go to Comic Relief, along with J.K. Rowling's charity, Lumos. So it's not just a purchase, it's kind of a donation too... right?
Fantastic Beasts and Where To Find Them is already available for pre-order at Amazon (opens in new tab). And if you want the U.K. edition, you can order that here (opens in new tab).
Your Daily Blend of Entertainment News
Assistant Managing Editor
Kelly joined CinemaBlend as a freelance TV news writer in 2006 and went on to serve as the site's TV Editor before moving over to other roles on the site. At present, she's an Assistant Managing Editor who spends much of her time brainstorming and editing feature content on the site.
Your Daily Blend of Entertainment News
Thank you for signing up to CinemaBlend. You will receive a verification email shortly.
There was a problem. Please refresh the page and try again.