Fantastic Beasts Screenplay To Be Published As A Book, Here's What We Know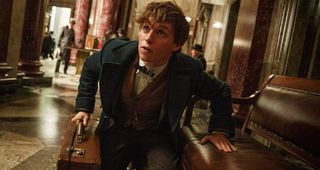 Harry Potter fans are used to being able to read the story before they see the movie, which won't be an option for those who want to see Fantastic Beasts and Where To Find Them as soon as it hits theaters. However, it was announced today that the film's screenplay, which was written by Harry Potter author J.K. Rowling, will be published as both an eBook and a hardcover book, to be released the day after Fantastic Beasts hits theaters. To be clear, this book will be a published version of the screenplay, not a novel.
Scholastic made the announcement today, stating that the published screenplay of Fantastic Beast and Where To Find Them will be released in the U.S. and Canada on November 19, 2016. That's one day later than the release date of the film. The hardcover book will retail at $24.99 in the U.S. and $29.99 in Canada. If you're in the U.K. rest assured, Fantastic Beasts in screenplay form will be headed your way as well, distributed by Little, Brown Book Group.
This is a similar strategy that was recently taken with Harry Potter and the Cursed Child, the highly anticipated West End play that's debuting this summer. A published version of the script will be released immediately following the official premiere of the play, much to the elation of many Harry Potter fans across the globe who won't be able to get to London to see Cursed Child. In the case of Fantastic Beasts, the need for a book version is not as dire, given that the movie will be far more accessible to the millions of Harry Potter fans than the play. With that said, fans will want this movie in book form, even if it's not a novel.
I know I'm not alone in placing a high value on anything J.K. Rowling adds to the canon of her magical universe. Harry Potter's rich and colorful world will expand in a substantial way when Fantastic Beasts and Where To Find Them hits theaters. The fact that Rowling penned the screenplay herself puts a stamp of authenticity on the story, so it seems only fitting that we should be able to add this installment of the Harry Potter universe to our libraries.
Is this a way for people to make even more money off the Harry Potter franchise? Sure. But it's also an opportunity for people to revisit the story after they've seen it, or to read it in print before they're able to get to see the movie. Having once been a kid who only ever got to got to see a fraction of the movies she wanted to see in the theater, I can appreciate that. Admission: I read the novelization of the 1989 Batman movie well before I actually got to see it. Books were more accessible (and affordable) to me than movies in my youth, and I imagine that's still going to be the case for a lot of kids out there. And then there are kids and adults alike who just love to read, and will want to visit or revisit this story in text. Of course, when it comes to seeing those fantastic beasts, sans special effects, that leaves much of the visual heavy-lifting to the reader's imagination. Something tells me that won't be a problem for Harry Potter fans.
Fantastic Beasts and Where to Find Them is loosely based on a reference guide bonus book penned by JK Rowling and released between Harry Potter books. As the book is more of a guide, and not a novel, it doesn't offer much information about Newt Scamander, the book's author, and the film's lead character (played by Eddie Redmayne). The published screenplay is likely to be the closest thing we'll get to a novelized version of the film's story. Between readers and Harry Potter fans with an appetite for any new morsel of canon, the demand for a book version of Fantastic Beasts' story seems highly likely.
If you're already saying "shut up and take my money," you can find the eBook version of Fantastic Beast and Where To Find Them available for preorder at Amazon (opens in new tab). Looks like they're presently offering it for $12.99.
For a rundown of everything we know about Fantastic Beasts and Where To Find Them, check out our guide here.
Assistant Managing Editor
Kelly joined CinemaBlend as a freelance TV news writer in 2006 and went on to serve as the site's TV Editor before moving over to other roles on the site. At present, she's an Assistant Managing Editor who spends much of her time brainstorming and editing feature content on the site.