10 Actors Who Could Play Dumbledore In The Fantastic Beasts Movies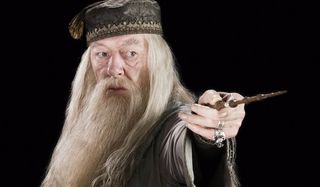 We finally have confirmation that Albus Dumbledore will be appearing in Fantastic Beasts and Where To Find Them 2, and we're hopeful that means he'll have an even bigger presence as this budding series moves forward. But who will play him? That has yet to be determined, so what better time to speculate over who might snag the role of Dumbledore in the anticipated followup for the upcoming Harry Potter spinoff.
It's worth noting a couple of things before we get to the list. The first is that we're going to assume that whoever plays Dumbledore will be from somewhere in the United Kingdom. That's yet to be confirmed, but we're going to ride with that assumption. Dumbledore is British, so hopefully he'll be played by a British actor.
The next is that Dumbledore would've been in his mid-forties in the 1920s, so (factoring in Hollywood's typically flexible view on actor/character ages) we're assuming they'll cast someone within the range of late thirties to early fifties.
Finally, we don't really know what Dumbledore's personality was like in his younger years. Maybe he was really just a 40-something version of the Dumbledore we came to know and love in the Harry Potter books and movies, but I'm inclined to think life-experienced shaped him into the eventual Hogwarts headmaster. So we can't really pinpoint an actor by personality type.
All of the above in mind, here's a list of (mostly) British actors who could fit the part of Albus Dumbledore.
Damian Lewis
I'm dropping this name first, because he's among my favorite choices for the part. At 45, Damian Lewis is the perfect age to play 1920's Dumbledore. Though he's spent a lot of his career on the small screen (Homeland, Life, Billions), he's no stranger to feature work, and certainly has the talent to take on a role like this. It's not hard to picture Damien Lewis playing the kind and compassionate side of Albus Dumbledore, and then easily shifting gears to be the formidable magical force if and when the time calls for it.
Jude Law
My initial reaction to the thought of Jude Law as Albus Dumbledore is that he'd be distractingly handsome, but that may just be due to my recent viewing of The Holiday. That said, I imagine Dumbledore was an attractive man in his youth, so I don't think looks should disqualify Law entirely. At 43, Jude Law is close enough to the right age. And he does have a certain spark to him that might work nicely for a younger Albus Dumbledore.
Daniel Craig
Can James Bond also be Albus Dumbledore? It's entirely possible that Craig's Bond presence might be too big to be ignored (not to mention his potential commitments to the franchise, whatever they may be), but I don't want to rule him out entirely. If they're aiming for a more serious Dumbledore, Daniel Craig seems like a contender.
Martin Freeman
If playing James Bond doesn't rule Daniel Craig out for the possibility of tackling another iconic role, then the same should apply to Martin Freeman, who boasts two pretty massive literary character credits in Bilbo Baggins (The Hobbit) and Dr. John Watson (Sherlock). That said, I adore Martin Freeman, and there's something in his nature that makes me think he could be the perfect Albus Dumbledore.
Ewan McGregor
Ewan McGregor knows a little something about playing the younger version of an iconic white-bearded character, having played Obi-Wan Kenobi in the Star Wars prequels. Assuming his Scottish origins (and accent) don't disqualify him from the role, Ewan McGregor is another great option for this part. We want our Dumbledore to be a bit serious and a bit mischievous, and it's easy to see McGregor filling those shoes.
Simon Pegg
If younger Albus Dumbledore is more playful than he is serious, who better to play him than Simon Pegg? He's age-appropriate for the part, and has a bit of that humor and warmth we've seen in Albus Dumbledore. If this isn't the right role for him, then hopefully he'll pop up in some other part in Fantastic Beasts. Pegg in the Potterverse is long overdue.
Michael Fassbender
I have a few reservations about Fassbender as Dumbledore, including that he's not actually British (he's technically born in Germany and raised in Ireland). For another at 39, he's on the young side for this part. Too young to have been the teacher of a character played by Eddie Redmayne? Eh, that's debatable. Much like Daniel Craig, I see Michael Fassbender as a more serious Dumbledore, and though I'm not sure I can picture it, I don't think it should be ruled out.
Hugh Dancy
Hugh Dancy is another one who may be a bit too young for this role, but just as I don't think that alone should rule Michael Fassbender out, the same applies to Dancy. Though he's currently on Hulu's series The Path, the Hannibal star seems ripe for a major movie role.
Benedict Cumberbatch
He's on the young side for Dumbledore, and he just took on a major Marvel role. And still, I refuse to leave Benedict Cumberbatch off this list. He's serious when he needs to be serious. He's funny when he needs to be funny. And I bet he could throw down in a wizarding duel if it ever came down to it. Plus, well we know he's got magic in him, thanks to Doctor Strange.
Tom Hardy
If there's a truly oddball choice for the role of Dumbledore, I have to believe Tom Hardy is it. Partially because he's a bit young, but mainly because even I couldn't picture it at first. And then I could, and I kind of liked it. Hardy has proven perfectly able to disappear into a role, and a bit of makeup could certainly age him up if necessary. It'd be interesting to see what he'd bring to this part.
There are other well known and talented actors out there. Among our runner-ups were Christian Bale, Dominic West, Tom Hiddleston, Matt Smith, Hugh Laurie and James McAvoy, but due to age and other factors, they didn't quite make the cut on our list. That's not to say we won't see their names floating around when the casting rumors start flying. At this point, it seems like the floor is open and this is a big opportunity, and anything is possible. While we might assume that Fantastic Beasts will cast a big name to match the fame and talent of Johnny Depp, who's reported to play Gellert Grindelwald, it's just as possible that some lesser known talent will snag the role. We'll have to wait and see.
Fantastic Beasts and Where To Find Them arrives in theaters November 18. And J.K. Rowling's screenplay book for the film will be available the same day.
Your Daily Blend of Entertainment News
Assistant Managing Editor
Kelly joined CinemaBlend as a freelance TV news writer in 2006 and went on to serve as the site's TV Editor before moving over to other roles on the site. At present, she's an Assistant Managing Editor who spends much of her time brainstorming and editing feature content on the site.